Lebanon invited to upcoming Arab summit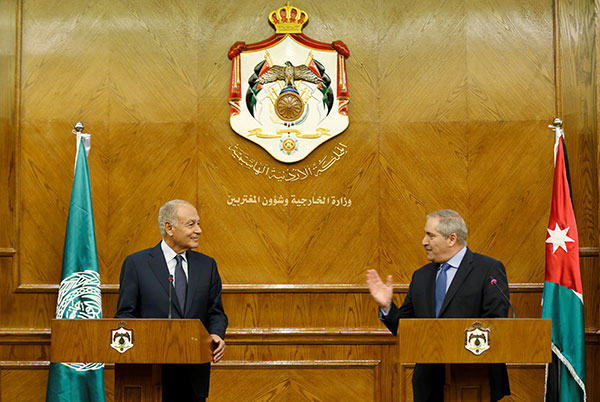 File photo shows Jordan's Foreign Minister Nasser Judeh (R) speaks during a joint news conference with Secretary General of the Arab League Ahmed Aboul Gheit in Amman, Jordan, November 2, 2016. [Photo/Agencies]
BEIRUT - Visitng Jordanian Deputy Prime Minister Nasser Judeh handed on Tuesday Lebanese President Michel Aoun an invitation from King Abdullah II of Jordan to participate in the upcoming Arab Summit, National News Agency (NNA) reported.
The two leaders talked over the situations in the Arab region and the efforts to find political solutions to the crises in some Arab countries, NNA said.
They also stressed the importance of joint action against terrorism and the need to address its causes.
"Lebanon is required to restore its usual role in the Arab, regional and international arenas," Judeh said after the talks.
For his part, Aoun thanked the Jordanian monarch for the invitation, highlighting "the firmness of the Lebanese-Jordanian ties and the importance of joint Arab action in support of the just Arab causes."
The 28th Arab Summit is slated to take place on March 29 in the Jordanian capital Amman.