UN Security Council hails election of new president in Lebanon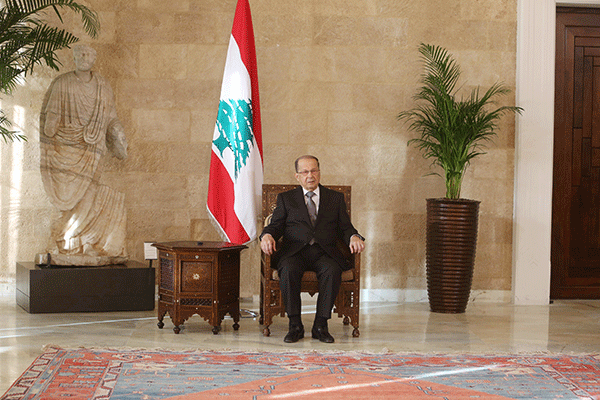 Newly elected Lebanese president Michel Aoun sits on the president's chair inside the presidential palace in Baabda, near Beirut, Lebanon October 31, 2016. [Photo/Agencies]
UNITED NATIONS - The UN Security Council on Tuesday welcomed the election of Michel Aoun as the new president of Lebanon as "a critical step to overcome Lebanon's political and institutional crisis," and urged the swift formation of a unity government in the Middle East country.
"The Security Council urges the new president of the Republic of Lebanon and Lebanese leaders to build on their efforts thus far by continuing to work constructively to promote the country's stability, and by swiftly forming a government," the 15-nation UN body said in a presidential statement issued here.
"The Security Council stresses that the formation of a unity government and the election of a parliament by May 2017, in accordance with the Constitution, are critical for Lebanon's stability and resilience to withstand regional challenges," the statement said.
With little consensus in the country's political landscape, the process of forming a government is likely to be long and arduous.
"The Security Council encourages all parties in Lebanon to demonstrate renewed unity and determined to that end, in order to ensure Lebanon's ability to address the growing security, economic, social and humanitarian challenges facing the country," said the statement.
The Security Council affirms that the preservation of Lebanon's stability is essential to regional stability and security, the statement said. "The Securtiy Council underscores its previous calls on all Lebanese parties to recommit to Lebanon's policy of dissociation and to cease any involvement in the Syrian crisis."
Meanwhile, the council statement called on the international community, including the international organizations, to ensure continued support to Lebanon in addressing the economic, security and humanitarian challenges facing the country.
On Monday, UN Secretary-General Ban Ki-moon, in a statement issued here by his spokesman, welcomed the election of the new president in Lebanon.
Former army chief Michel Aoun, an 81-year-old Christian, was sworn in as Lebanon's 13th president on Monday, ending the country's presidential vacancy that lasted almost two and a half years.
Lebanon had been without a president since May 2014, when former president Michel Suleiman's six-year term ended. Since then, the parliament had held 45 failed sessions to elect a successor, each time failing to make quorum.