Search is on after attack at nightclub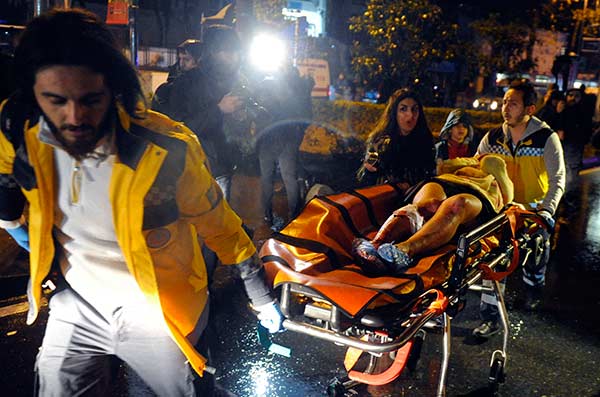 Medics transport a wounded person from the scene after the attack at a popular nightclub in Istanbul early on Sunday. [Photo/Agencies]
China condemns New Year's rampage that left at least 39 dead and dozens wounded


Turkish police were hunting for an assailant, reportedly dressed as Santa Claus, who opened fire at a crowded Istanbul nightclub during New Year's celebrations on Sunday, killing at least 39 people and wounding almost 70 others in what authorities called a terror attack.
President Recep Tayyip Erdogan vehemently condemned "the terror attack in Istanbul's Ortakoy neighborhood in the first hours of 2017" and expressed sorrow for those who lost their lives, including "foreign guests".
Beijing also condemned the attack. "China firmly opposes all forms of terrorism and is willing to work with Turkey and the international community to maintain regional and world peace and security," Foreign Ministry spokes woman Hua Chunying said on Sunday.
The attacker, armed with a long-barreled weapon, killed a policeman and a civilian outside Istanbul's popular Reina club at around 1:15 am before entering and firing on people inside, Governor Vasip Sahin said.
"Unfortunately, (he) rained bullets in a very cruel and merciless way on innocent people who were there to celebrate New Year's and have fun," Sahin told reporters.
There was no immediate claim of responsibility for the attack, and authorities did not name any suspects. The bloodiest attacks that Turkey endured in 2016 were the work of the Islamic State group or Kurdish militants.
Turkey is a member of NATO and a partner in the US-led coalition against the Islamic State group. The country is also facing renewed conflict with Kurdish rebels in the southeast and across the border in Syria and Iraq.
Interior Minister Suleyman Soylu said the attacker had not been identified and was still at large. "Our security forces have started the necessary operations. God willing, he will be caught in a short period of time," he said on Sunday.
The private NTV news channel said the assailant entered the upscale nightclub, on the shores of the Bosporus, on the European side of the city, dressed in a Santa Claus outfit. The minister said the lone attacker was believed to have left the club wearing different clothing.
At least 15 of the dead were foreign nationals, Soylu said, without providing information on their nationalities. Five of the victims were identified as Turkish nationals, while authorities were still trying to identify the rest. At least 69 people were being treated in hospitals, four of whom were in serious condition, Soylu said.
Mehmet Dag, 22, was passing by the club and saw the gunman fire at a police officer and a bystander. He said the suspect then targeted security, gunning them down and entering the club.
An estimated 600 people were celebrating inside the club, which is often frequented by famous locals, including singers, actors and sports stars. Several shocked revelers were seen fleeing the scene after the attack, and the music fell silent.