Zuckerberg calls on APEC members to join global connectivity revolution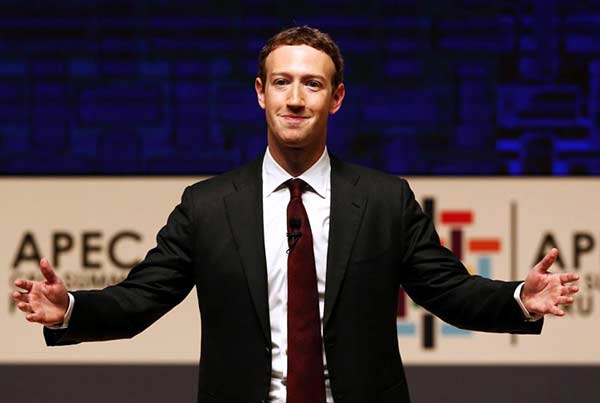 Mark Zuckerberg gestures while addressing the audience during a meeting of the APEC (Asia-Pacific Economic Cooperation) CEO Summit in Lima, Peru, Nov 19, 2016. [Photo/Agencies]
LIMA - In a keynote address to the APEC CEO Summit in Lima on Saturday, Facebook Chairman and CEO, Mark Zuckerberg, challenged the world to connect all people to the Internet and reap the economic benefits of doing so.

With the speech titled "The Connectivity Revolution," Zuckerberg said that, as an engineer, his mindset was to view any system in the world, whether hardware and software, healthcare and education systems, or even governments.

"With the accelerating progress in science and technology, our generation has the potential to do even more great things that at any other time in history," he said.

As an example, Zuckerberg looked at education. "For the last century, education has worked in more or less the same way. Students sitting in a classroom, with a teacher, learning the same material, in the same way, at more or less the same pace," he laid out. "Today, we know that personalized learning is way better. If you can give teachers the tools and software to help students learn in the way that suits them best...results show students can learn as much as 50 percent more each year and that can compound."

According to the social media guru, schools that integrate such personalized learning feel like start-ups and that more of the education system should work like this.

To tap into this, Facebook created a dedicated engineering team to create personalized learning that teachers could use for free. In the first year, 20 schools signed up to Facebook's program for personalized learning. The second year, 100 schools signed up and many hundreds are expected to do so in the third year, Zuckerberg pointed out.

He added that Facebook intended to spread this program around the world, clearly providing an opportunity for APEC countries.

Zuckerberg also gave examples of how connectivity helps to keep people safe, such as Facebook building AI that can scan and flag content which could be a sign of violence, or the Safety Check tool allowing people to check in online and say they are safe after a natural disaster.

"I am optimistic...but also realistic about how hard this is going to be," he said. "In order to do all these things, we first have to connect people...We need to make connectivity and connectivity infrastructure a much higher priority on each of our agendas."

Listing three major challenges to connectivity, availability, affordability and awareness, Zuckerberg said governments had more to do to invest infrastructure and recognize that connectivity is the path to achieving any goals they might have.