Premier Li: China to better dovetail Belt and Road Initiative with Kazakh projects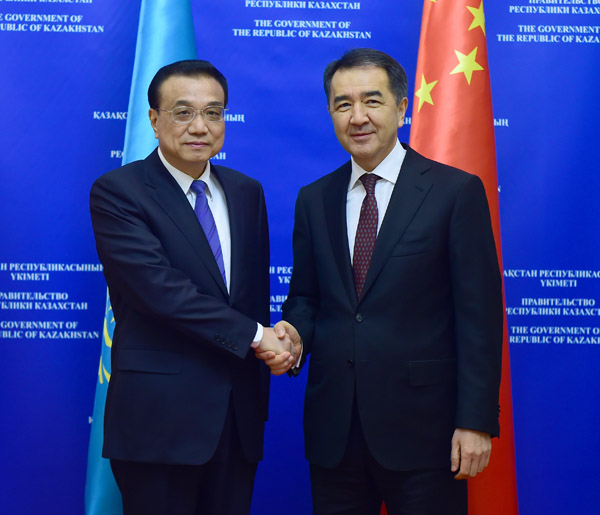 Chinese Premier Li Keqiang, left, shakes hands with Kazakh Prime Minister Bakytzhan Sagintayev in the third regular meeting between the two countries' prime ministers in Astana on Thursday. [Photo/provided to chinadaily.com.cn]
China and Kazakhstan agreed to boost cooperation on their production capacity and further advance infrastructure projects they are collaborating on.
Visiting Premier Li Keqiang told Kazakh Prime Minister Bakytzhan Sagintayev in the third regular meeting between the two countries' prime ministers in Astana on Thursday local time that China is ready to better dovetail its Silk Road Economic Belt initiative with Kazakhstan's Bright Road, a strategy initiated in 2014 to develop the country's infrastructure and economy.
Also, China hopes the two countries will explore new potential through production capacity cooperation, promote all-around, mutually beneficial cooperation and push forward the development of major interconnectivity projects, Li said.
Calling Kazakhstan a good neighbor and comprehensive strategic partner of China, Li said the bilateral ties have progressed by leaps and bounds in the spirit of mutual respect, equality, mutual benefit and cooperation.
Sagintayev said Kazakhstan would like to further deepen bilateral cooperation in areas including production capacity, transportation, energy, agriculture and innovation, and it will increase people-to-people and cultural exchanges with China.
Production capacity cooperation between the two countries started in 2014, when Li made the proposal during his first visit to Kazakhstan, and it has borne fruit.
In March 2015, the two countries signed a memorandum to enhance production capacity and investment cooperation, and they agreed on a number of projects — covering steel, nonferrous metal and plate glass — worth more than $23 billion.
China's production capacity and Kazakhstan's need for upgrading its infrastructures complement each other, said Pang Zhongying, a professor of international relations at Renmin University of China.
Also, Chinese companies taking part in Kazakhstan's infrastructure projects significantly advance Central Asia as a "key link" in the Silk Road Economic Belt, Pang said.
Li Yongquan, a Central Asian Studies researcher at the Chinese Academy of Social Sciences, said the two countries have made "remarkable achievements" in production capacity cooperation because their development plans are being coordinated smoothly.
Premier Li also met Kazakh President Nursultan Nazarbayev and attended the launching ceremony of a Chinese-invested auto factory in Kostanay on Thursday.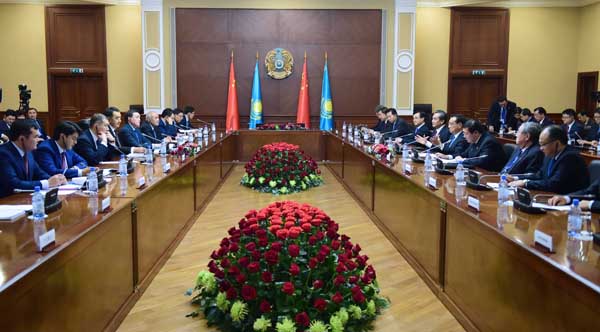 Chinese Premier Li Keqiang and Kazakh Prime Minister Bakytzhan Sagintayev attend the third regular meeting between the two countries' prime ministers in Astana on Thursday. [Photo/provided to chinadaily.com.cn]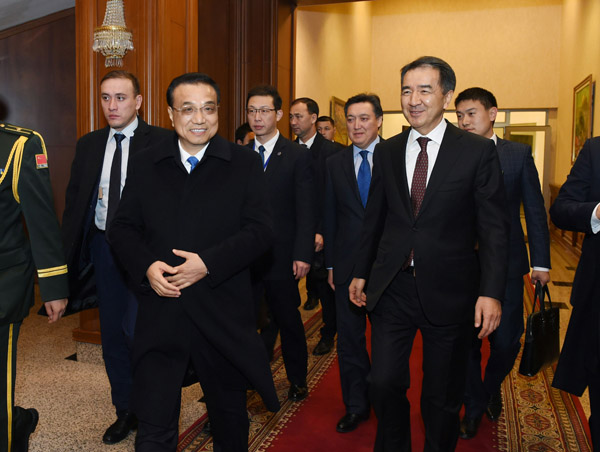 Chinese Premier Li Keqiang, left, and Kazakh Prime Minister Bakytzhan Sagintayev arrive at the third regular meeting between the two countries' prime ministers in Astana on Thursday. [Photo/provided to chinadaily.com.cn]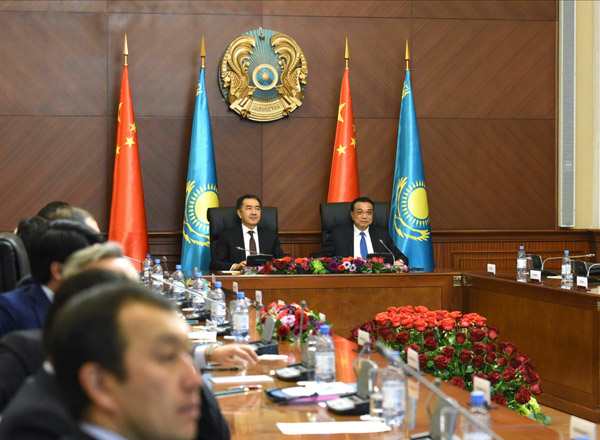 Chinese Premier Li Keqiang and Kazakh Prime Minister Bakytzhan Sagintayev attend the third regular meeting between the two countries' prime ministers in Astana on Thursday. [Photo/provided to chinadaily.com.cn]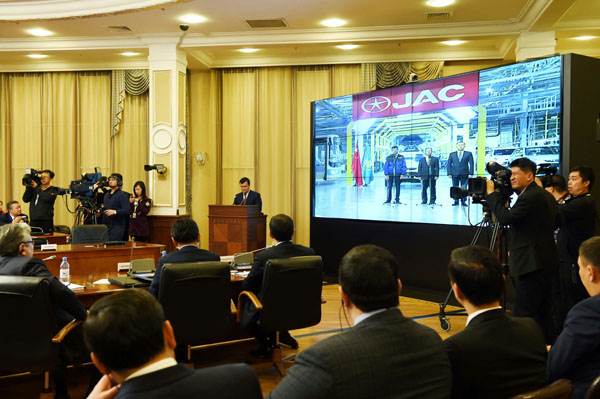 Chinese Premier Li Keqiang and Kazakh Prime Minister Bakytzhan Sagintayev attend the third regular meeting between the two countries' prime ministers in Astana on Thursday. [Photo/provided to chinadaily.com.cn]