Premier Li makes six-pronged proposal, charting course for SCO's future development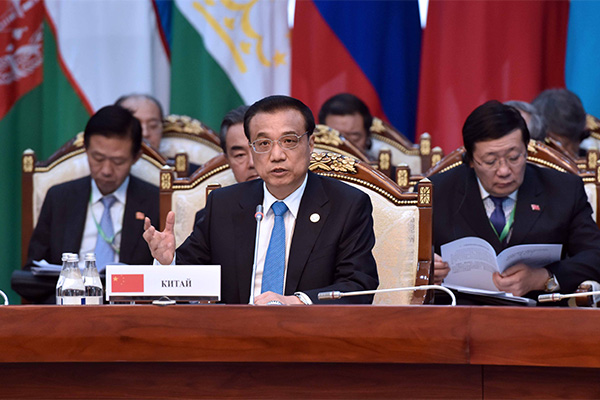 Premier Li Keqiang (C) attends the 15th Shanghai Cooperation Organization (SCO) prime ministers' meeting in Bishkek, Kyrgyzstan, Nov 3, 2016. [Photo/Xinhua]
BISHKEK - The 15th prime ministers' meeting of the Shanghai Cooperation Organization (SCO) concluded in Bishkek on Nov 3 with a six-pronged proposal by Premier Li Keqiang and a joint communiqué calling on its members to enhance practical cooperation in a wide range of fields including security, economic development and production capacity.
Six-pronged proposal by Premier Li
The Premier made the proposal at the SCO prime ministers' meeting in Bishkek, a regular meeting mechanism established in 2001.
Noting that the SCO has been playing an indispensable role in boosting regional stability and prosperity in last 15 years, the Premier said it has also made active contribution to world peace and development.
Only through joint cooperation can SCO members achieve common development and long-term peace as well as stability in the region, said Premier Li, calling on all member states to make joint efforts in the following six fields.
On security cooperation, the Premier urged all members to observe a concept of common, comprehensive, cooperative and sustainable security, suggesting deepening information exchange and cooperation in law-enforcement so as to ensure the safety of peoples, institutions, enterprises and personnel of SCO members.
He also asked SCO members to further strengthen their cooperation and coordination on security and boost the construction of regional anti-terrorism institutions and mechanisms.
As for the alignment of development strategies, Premier Li called for more efforts to promote the coordination and dovetailing of economic development policies of SCO members, citing the growing synergy between the China-proposed Belt and Road Initiative and the Eurasian Economic Union (EEU) as an example.
The Belt and Road Initiative comprises the Silk Road Economic Belt and the 21st Century Maritime Silk Road and aspires to build a trade and infrastructure network connecting Asia with Europe and Africa along the ancient Silk Road routes. The EEU groups Armenia, Belarus, Kazakhstan, Kyrgyzstan and Russia.
China stands ready to make joint efforts with other SCO members to boost regional trade and facilitate investment, said Premier Li, suggesting that SCO members enhance cooperation in such fields as customs, inspection and quarantine, as well as certification and accreditation.
China is open to the initiative of establishing a SCO free trade zone and is willing to work with other parties to conduct relevant feasibility studies and actively explore a more comprehensive, closer and more efficient regional economic cooperation framework, said the premier.
As to enhancing production capacity cooperation, Premier Li said China is ready to make joint efforts with other member states to make production capacity cooperation a pillar of regional trade cooperation. Major cooperation projects, including a power plant in Uzbekistan, an oil refinery in Kyrgyzstan, a cement plant in Tajikistan and a China-Uzbekistan industrial park are undergoing smoothly, Premier Li said.
Concerning innovation cooperation, the Premier said China is willing to beef up the alignment as well as the exchanges of innovation policies with other members, so as to facilitate the e-commerce customs clearance, strengthen the capacity of logistics support, and propel cooperation in such fields as environmental technology innovation and green economy.
Regarding regional financing, Premier Li urged member states to take full advantage of regional financing platforms like the SCO Interbank Consortium, the Asian Infrastructure Investment Bank, the Silk Road Fund and the BRICS New Development Bank, among others.
China stands ready to further strengthen swaps and settlement of local currencies with all member states, he added.
About people-to-people exchanges, the Premier pledged to offer more scholarships for SCO members to enhance the foundation of people-to-people exchanges.
China is willing to sign agreements with other parties on establishing a SCO university and support its efforts to foster talents for SCO members, said the Premier.
He added that China will continue to host summer camps for primary and secondary school students from SCO countries and hold a series of nongovernmental exchange activities.
Consensus on expanding cooperation
For their parts, other attending leaders of SCO member states gave positive affirmation on the progress the SCO has achieved, vowing to make joint efforts to maintain regional security and stability, propel regional economic cooperation, strengthen internal dynamism of the organization and make new contributions to regional peace and stability.
After the meeting, the Premier and prime ministers of Kazakhstan, Kyrgyzstan, Russia, Tajikistan and Uzbekistan signed a joint communiqué on deepening cooperation within the SCO.
In the communiqué, the six leaders agreed that expanding and deepening cooperation among SCO members are in line with the overall interests of the sustainable development of the regional economy.
They reaffirmed that promoting people's welfare and living standard while further enhancing cooperation in fields that accord with common interests are SCO's top priorities.
The leaders noted that SCO members should carry on comprehensive international cooperation and offer driving forces for global economic recovery, stressing that all participants of the global economy should have equal opportunities.
According to the communiqué, initiatives proposed for regional economic cooperation, including China's Silk Road Economic Belt initiative, are conducive to seeking new models for international cooperation and cementing ties among member states.
Meanwhile, the leaders had ratified a list of measures to further promote cooperative projects within the SCO from 2017 to 2021, said the document.
As to financial cooperation, the leaders called for more consultations on expert level to seek for common solutions to building a SCO development bank as well as a development fund, read the paper.
The leaders noted that it is important to foster multilateral cooperation in culture, education, science, environmental protection, health, sports and tourism, among others.
For science cooperation, the six leaders approved a SCO science partnership plan and a five-year action plan for a SCO intergovernmental science cooperation agreement signed in Bishkek on Sept 13, 2013.
In addition, the leaders also gave green lights to SCO's budget in 2017, announcing that the 16th SCO prime ministers' meeting will be held in Russia next year.
Premier Li arrived in Bishkek on Nov 2 for an official visit to the Central Asian country and the SCO meeting.
Established in 2001, the SCO is a regional political, economic and security organization that groups China, Kazakhstan, Kyrgyzstan, Russia, Tajikistan and Uzbekistan as full members.
India and Pakistan signed the SCO' s Memorandum of Obligations in June, kick-starting the process of their accession into the group, which also has a number of observers and dialogue partners.