Syria ceasefire begins, but is shaky with early clashes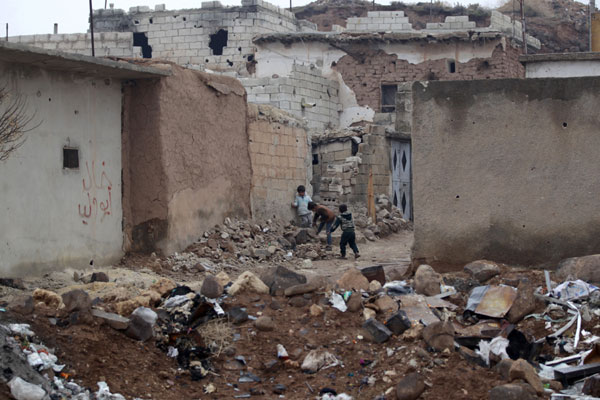 Children play near rubble of damaged buildings in al-Rai town, northern Aleppo countryside, Syria December 25, 2016. [Photo/Agencies]
ASSAD IN STRONG POSITION
The deal also follows a thaw in ties between Russia and Turkey.
Talks on the latest truce picked up momentum after Russia, Iran and Turkey last week said they were ready to back a peace deal and adopted a declaration setting out principles for an agreement.
Putin said opposition groups and the Syrian government had signed a number of documents, including the ceasefire, measures to monitor the truce, and a statement on readiness to start peace talks.
While Ankara has been a big sponsor of the rebellion, Assad's removal has become a secondary concern to fighting the expansion of Kurdish influence in northern Syria. The chances of
Assad's opponents forcing him from power now seem more remote than at any point in the war.
The United States has been sidelined in recent negotiations and is not due to attend the next round of peace talks in Kazakhstan, a key Russian ally.
Its exclusion reflects growing frustration from both Turkey and Russia over Washington's policy on Syria, officials have said.
Washington said the news of a ceasefire was a positive.
"We hope it will be implemented fully and respected by all parties," U.S. State Department spokesman Mark Toner said.
James Dobbins, a former senior US diplomat, said the lack of American involvement in the talks between Russia, Iran and Turkey did not preclude the United States being a major player in the region.
In this case, it was frozen out because Obama leaves office in less than a month and because Turkey and Russia are at odds with the United States over its Syria policy and other issues, said Dobbins, a fellow at RAND, a research organization.
Trump has said he would cooperate more closely with Russia to fight terrorism but it was unclear what that policy would look like given resistance from the Pentagon and the U.S. intelligence community for closer cooperation with Russia on Syria.