Kerry warns Middle East peace in jeopardy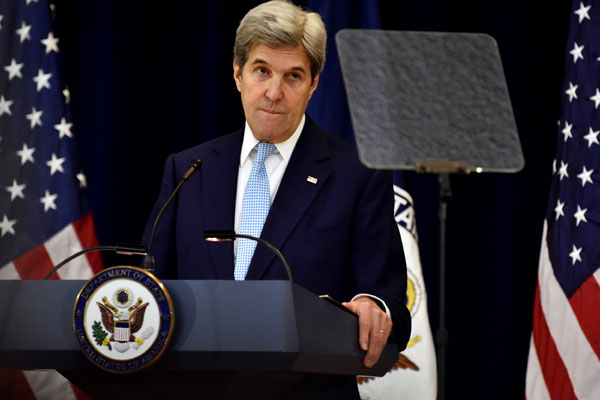 US Secretary of State John Kerry delivers remarks on Middle East peace at the Department of State in Washington, US on December 28, 2016. [Photo/Agencies]
WASHINGTON - US Secretary of State John Kerry on Wednesday said Israel's building of settlements on occupied land was jeopardizing Middle East peace, voicing unusually frank frustration with America's longtime ally weeks before he is due to leave office.
In a swiftly issued statement, Israeli Prime Minister Benjamin Netanyahu accused Kerry of bias. He said Israel did not need to be lectured to by foreign leaders and looked forward to working with President-elect Donald Trump, who has vowed to pursue more pro-Israeli policies.
In a 70-minute speech, Kerry said Israel "will never have true peace" with the Arab world if it does not reach an accord based on Israelis and Palestinians living in their own states.
Kerry's remarks, and Netanyahu's reply, marked the closing chapter of a bitter US-Israeli relationship during President Barack Obama's administration over differences on settlement-building and the Iran nuclear deal signed last year.
Ties reached a low point last Friday when Washington cleared the way for a UN resolution that demanded an end to Israeli settlement building, prompting Israeli government officials to direct harsh attacks against Obama and Kerry.
"Despite our best efforts over the years, the two-state solution is now in serious jeopardy," Kerry said at the State Department. "We cannot, in good conscience, do nothing, and say nothing, when we see the hope of peace slipping away."