Miss, Mr World China hit Big Apple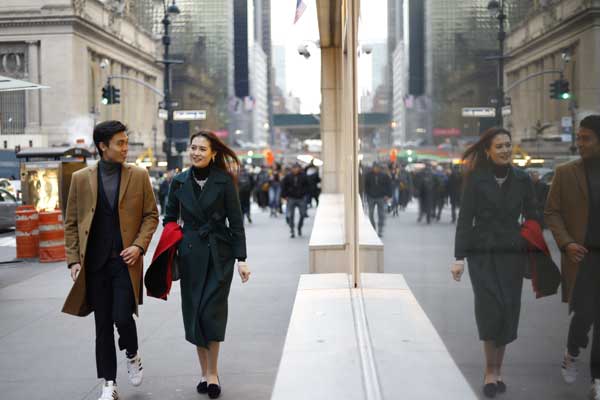 Kong Jing (right) and Chang Zhousheng in New York. [Provided to China Daily]
Miss World contestants from nearly 120 countries chanted "China! China! China!" when Kong Jing won for top model, one of seven categories at the Miss World beauty pageant.
It was the second time a Chinese contestant had won the award. The first was Zhang Zilin, who took the Miss World crown in the 2007 contest, which was held in Sanya, China.
A senior at the Beijing Institute of Fashion Technology, Kong, 20, was selected Miss World China 2016 through a country-wide competition, and embarked on the journey to Washington, DC, in late November to participate in the 25-day competition that ended on Sunday. Kong placed in the TOP 10 among the 119 contestants.
A major in fashion presentation and promotion at college, she models on the side and volunteers as an art teacher in a Beijing elementary school.
"It's a month of my life that I will remember forever," Kong told China Daily on a visit to New York City before heading back to Beijing.
"I feel so honored to represent my country and introduce China to the world," said Kong. "And they are truly interested in China."
During the sports challenge portion of the competition, the contestant from Bulgaria asked Kong to paint the Chinese character for victory on her face. Using a brush, Kong drew cheng gong on her right cheek and she went on to make it into the semi-finals.
Mr World China 2016, Chang Zhousheng, joined Kong on her visit to the Big Apple.
Chang, 23, is a graduate student in luxury fashion management at the Savannah College of Art and Science's Atlanta campus.
The 9th Mr World competition was held this summer in Southport, United Kingdom. Compared to the 66-year-old Miss World event, the men's contest, with contestants from 46 countries this year, is still growing.
Fluent in English, Chang said he hoped to represent the younger generation of Chinese who hold an international background and vision.
"We are open-minded," he said. "We want to communicate with the world."
For the talent portion of the competition, he picked the Frankie Valli pop classic Can't Take My Eyes Off You, instead of a traditional Chinese song.
"The audience really liked it, and they were shouting 'China! China!'" said Chang. "I was proud to let them see that China is not that distant. We share a lot of similarities."
"The competition shouldn't just be a display of culture, but a real communication," he said.
China is considered a powerhouse in the Miss World competition. Chinese contestants have been participating since 2001 and have won two crowns.
Stephanie Del Valle of Puerto Rico was crowned Miss World 2016, and Rohit Khandelwal of India won the Mr World title.
It was Kong's second visit to the US. Asked if she liked the country, she answered, "Yes, but I miss China already."
In New York, she said, she finally got to have her first meal of Chinese food in 25 days.