Trump vows to cut F-35 spending, as leaked memo stresses greater efficiency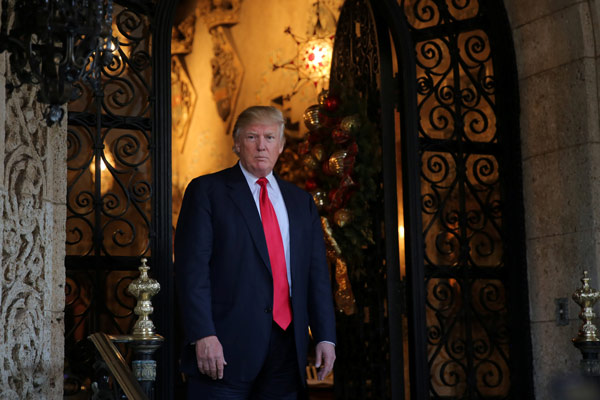 US President-elect Donald Trump pauses as he talks to members of the media at Mar-a-Lago estate in Palm Beach, Florida, US, December 21, 2016. [Photo/Agencies]
WASHINGTON - US President-elect Donald Trump on Wednesday vowed to cut the costs of the Air Force's F-35 fighter jet program, stressing again his eagerness to trim down government spending.
"It's a program that's very, very expensive," Trump told reporters at his Florida resort, adding: "We are gonna get the cost down, and we're gonna get it down beautifully."
Trump had previously complained about the cost of developing the F-35 on twitter, saying "the F-35 program and cost is out of control, billions of dollars can and will be saved on military purchases after Jan 20."
The remarks came on the same day when Trump met with Marillyn Hewson, the CEO of Lockheed Martin, the manufacturer of F-35 fighter jets.
Hewson said the meeting was productive.
Trump's message reinforced a defense memo leaked Tuesday, which detailed the president-elect's "defense priorities" as defeating the Islamic State, building a strong defense, warding off cyber attacks and finding greater efficiency.
US media interpret the fourth point -- finding greater efficiency -- as streamlining bureaucracy to cut costs.