Slain Russian ambassador's body arrives in Moscow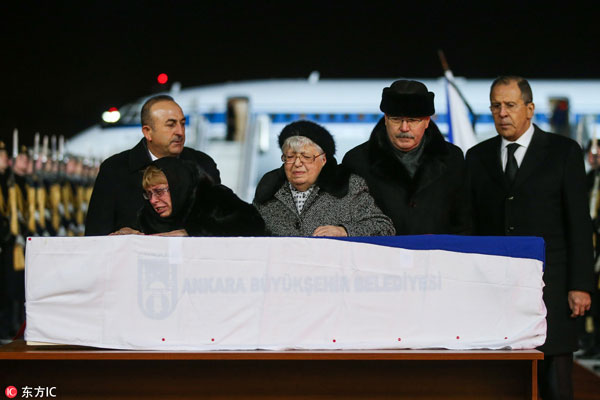 Andrei Karlov's widow Marina (L front) and mother Maria (C) weep over the body of Russia's Ambassador to Turkey, delivered to Vnukovo International Airport by a charter flight. Karlov was shot dead on December 19, 2016 in Ankara's Contemporary Art Centre. Pictured in this image are Turkey's Foreign Minister Mevlut Cavusoglu (L back) and his Russian counterpart Sergei Lavrov (R). [Photo/IC]
MOSCOW - A chartered flight carrying the body of Russian Ambassador to Turkey Andrey Karlov, who was assassinated Monday in Ankara, landed in Moscow Tuesday night.
Russian Foreign Minister Sergei Lavrov and his Turkish counterpart Mevlut Cavusoglu came to the Vnukovo airport to pay tribute to the late ambassador and met with Andrey Karlov's widow and his mother, who were taken back from Ankara.
A unit of the 154th Preobrazhensky Regiment Preobrazhensky with the Russian Armed Forces proceeded with the coffin, which was covered with the Russian national flag.
Karlov was shot dead by an off-duty Turkish policeman when attending an art gallery in Ankara late Monday, which Moscow has described as a terrorist act.