Alcohol poisoning death toll in Russia rises to 53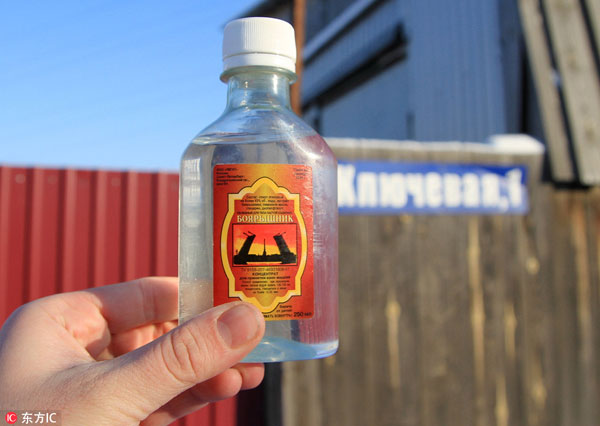 A bottle of the Hawthorn bath liquid produced at an illegal distillery discovered by the police in Klyuchevaya Street. The Russian Government demanded to withdraw hawthorn tincture and other alcohol-containing products from retail after a fatal poisoning of more than 50 people in Irkutsk. [Photo/IC]
MOSCOW - The death toll from alcohol poisoning in the east Siberian city of Irkutsk has risen to 53, and 26 people are still hospitalized, the Russian news agency TASS reported Tuesday.
The victims consumed a bath lotion which local officials later found contained deadly levels of methanol and antifreeze. Police have found an underground facility that made the counterfeit lotion, and seized 500 liters of the substance at about 100 shops in Irkutsk.
President Vladimir Putin's spokesman Dmitry Peskov described the mass poisoning as a terrible tragedy on Monday, adding that the president was being briefed about the situation.
Prime Minister Dmitry Medvedev told a Cabinet meeting on Monday that authorities need to deal with illegal turnover of such substances with alcohol content and quickly ban it.
On Monday, Russian media reported that 21 people had died of alcohol poisoning in Irkutsk. All of them got poisoned after consuming the bath lotion marked with the warning that it isn't for drinking.
Poisonings caused by surrogate alcohol are often seen in Russia, but the case in Irkutsk is the deadliest in years.