Merkel praises Germans for 'level-headed' response to Berlin attack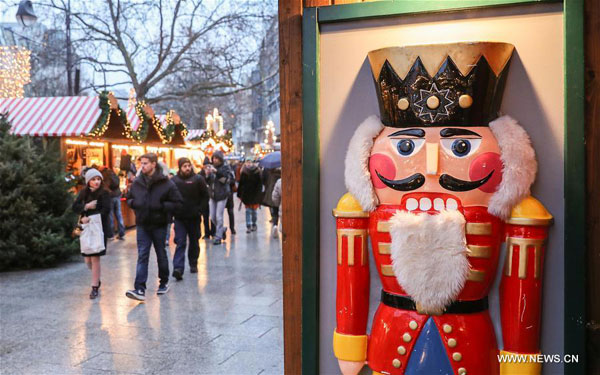 People walk around in the reopened Christmas market at the Breitscheid Square in Berlin, capital of Germany, on Dec 22, 2016. The Christmas market here attacked on Monday, was reopened on Thursday. [Photo/Agencies]
BERLIN - German Chancellor Angela Merkel on Thursday praised the German people for their "level-headed" response to the Berlin terror attack.
Her statement came as authorities carried out raids across the country in search for the prime suspect thought to have driven a truck through a Christmas market in the capital, killing 12 so far.
"In the past few days, I have been very proud of how level-headed the majority of people reacted to this situation," Merkel said, after a briefing with Interior Minister Thomas de Maiziere and Justice Minister Heiko Maas.
De Maiziere, speaking to reporters after the briefing, said the investigation revolves around Ani Amri, a Tunisian national, whose fingerprints was found in the truck used in the attack.
Amri's immigration papers were also found inside the vehicle that ploughed through the Christmas market near Kaiser Wilhelm Memorial Church, a landmark in west Berlin, on Monday evening.
Geman police were reportedly carrying out raids across the country on Thursday, including the capital and in the western state of North Rhine-Westphalia where the suspect had spent time.
In Moabit district of Berlin, police raided a mosque listed as a hub for radical Islamists by Germany's domestic intelligence agency. Another raid was carried out on a refugee home in Emmerich in North Rhine-Westphalia, where the suspect lived for some time after arriving in Germany last July.