California loft fire's toll rises to 33, with more victims expected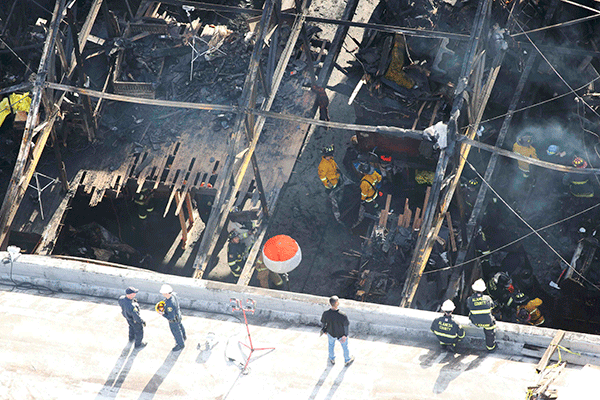 Recovery teams examine the charred remains of the two-story converted warehouse that caught fire killing dozens in Oakland, California, US, December 4, 2016. [Photo/Agencies]
OAKLAND, California - A fire that devastated an Oakland, California, loft building during a weekend dance party has taken at least 33 lives and the toll will likely rise, authorities said on Sunday, as criminal investigators joined recovery teams at the charred ruin.
Firefighters in Oakland, east of San Francisco, found the remains of nearly three dozen victims as they sifted through the debris-filled shell of the two-story converted warehouse being used by an artists' collective.
The cause of the fire was still undetermined, officials said. Arson is not suspected but investigators want to find out if the building, often used for musical performances, had a history of code violations.
Mayor Libby Schaaf said the Alameda County District Attorney's Office activated its criminal investigation team at the fire scene. A representative of the prosecutor's office is monitoring the recovery process, she said, adding she was not authorized to say if a criminal probe was under way.
The mayor said the city's first priority was finding the victims and supporting the families. "We have delivered the unacceptable and horrific news of losing a loved one to seven of our families."
The blaze, which erupted about 11:30 pm on Friday (0730 GMT on Saturday), ranks as the deadliest in the United States since 100 people perished in a 2003 Rhode Island nightclub fire.
The warehouse, which served as a base for the Ghost Ship Artists Collective, was one of many converted lofts in the city's Fruitvale district, a mostly Latino area where rents are generally lower than in the rest of Oakland.
As of Sunday evening, only 35 to 40 percent of the building had been searched, said Sergeant Ray Kelly, spokesman for the Alameda County Sheriff's Office.
Officials are still unsure how many people were in the building at the time of the fire and how many more victims might be found.