World's longest railway tunnel gets go-ahead for commercial use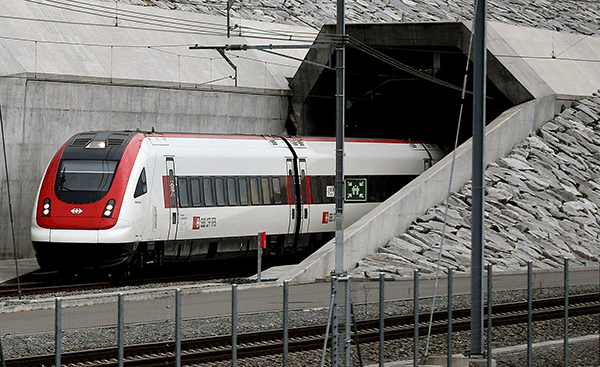 A passenger train of Swiss railway operator SBB leaves the northern gates of the NEAT Gotthard Base Tunnel, the world's longest train tunnel, during a test run, near the town of Erstfeld, Switzerland November 14, 2016. [Photo/Agencies]
GENEVA - Following months of trials, the Swiss Federal Office of Transport on Monday said Swiss Federal Railways can start both passenger and freight operations in the Gotthard Base Tunnel as of next week.
Scheduled to come into service on Dec 11, the world's longest railway tunnel will be used by some 50 passenger trains every day, with a further 260 freight trains able to cross the tunnel on a daily basis.
Measuring 57 kilometers and located in Switzerland's historic heartland, the Gotthard Base Tunnel was officially unveiled in June this year after 17 years of work.
With rock cover up to 2,300 meters in depth, the base tunnel is not only the deepest but also the longest and most expensive railway tunnel in the world, having cost 12.2 billion CHF (12.2 billion US dollars) to bring the engineering feat to life.
Upon completion of the entire Gotthard axis in 2020, the project will not only cut by 45 minutes the time it takes to travel from Zurich to Lugano but also greatly improve the transport of goods in the region.
This is particularly important as Switzerland is located on one of Europe's main freight transport axes, with some 26 million tons of merchandise passing through the Swiss Alps every year by rail.