Fire at California loft party kills 9, higher death toll feared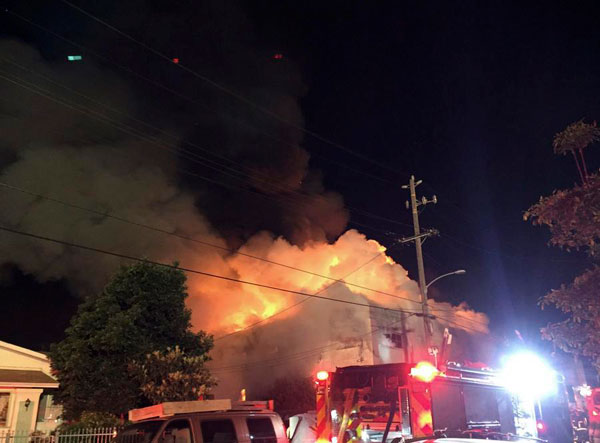 A fire at a dance party in a loft building in Oakland, California killed at least nine people and left some 25 missing.[Photo/Xinhua]
OAKLAND, Calif. - A fire at a dance party in a loft building in Oakland, California killed at least nine people and left some 25 missing, and authorities said on Saturday they feared the death toll could climb once recovery teams entered the burnt-out warehouse.
The blaze started at about 11:30 p.m. on Friday in the two-story warehouse in the city's Fruitvale district, a mostly Latino area that is also home to many artists living and working in converted lofts.
Fire officials have not yet determined how the fire started or an exact number of fatalities, said Oakland Fire Chief Teresa Deloach Reed, who called it the worst single-structure fire she had seen in her career.
Still, authorities were preparing to deal with "several dozen fatalities," said Sergeant Ray Kelly, a spokesman for the Alameda County Sheriff's Office, who said the recovery operation began on Saturday afternoon.
"The roof has collapsed down onto the second floor, so we have to literally go in there piece by piece and move wood and timbers and debris in order to even get an assessment," he said.
Authorities said they did not suspect arson, but investigators want to find out if the building, which was partitioned into artists' studios, had a history of building code violations.
Many of the victims were young people in their 20s or 30s, authorities said.
"It's just so hard to accept that some really wonderful people's lives got cut short," said Jenny Yang, 34, an artist and activist who was waiting for news of missing friends at Eli's, an Oakland bar that opened early as a gathering spot.
Video footage posted on social media showed flames shooting from the structure, which was adorned with elaborate graffiti and colorful murals, as fire vehicles pumped plumes of water and heavy smoke engulfed the neighborhood.
The roof of the warehouse collapsed during the fire, delaying efforts to recover bodies and investigate the blaze for more than 12 hours after the fire started.
"There is a large majority of that building that has not been searched," Reed said, pointing out that some of the 25 missing people may be among the nine confirmed victims.
"We are hoping that the number nine is what there is and that there are no more," the fire chief said, referring to the number of known fatalities.
Earlier, first responders were able to identify the nine fatalities visually as they entered the building, according to Kelly. He said local hospitals were being inundated with calls but had not treated many patients.
"It appears that people either made it out, or they didn't make it out," he said.
FRANTIC SEARCH FOR INFORMATION
Authorities have said they did not know how many people were at the party or how many lived on the premises.
A Facebook event page showed 176 people planned to attend the party, which featured electronic music performances.
Golden Donna, Cherushii and Nackt were among the acts scheduled to perform as part of the Los Angeles-based 100% Silk label's West Coast tour, Variety reported.
Parents and others shared contact information on the page and asked anyone with information about the missing to call. "ANY information please!" wrote a woman looking for her son.
At a sheriff's station not far from the fire, about a dozen people were waiting on Saturday for updates from authorities.
"I don't have high hopes," said a woman who had four friends among the missing, declining to give her name. "We've just spent the night calling hospitals and listening to police scanners."
The warehouse contained makeshift artist studios carved out with curtains and other partitions, the fire chief said. The interior was cluttered with "a flea market of items," she said. There was no evidence of any smoke detectors in the building.
The structure had only a single point of entry or exit from the second floor, where most of the dead were found, the chief said. A makeshift staircase appeared to be constructed from pallets.
"It's the worst case scenario we feared because it's an older warehouse," Doug, a man who only gave his first name, said as he waited for news of people who may have been inside.