Fidel Castro's ashes arrive at final stop in Santiago de Cuba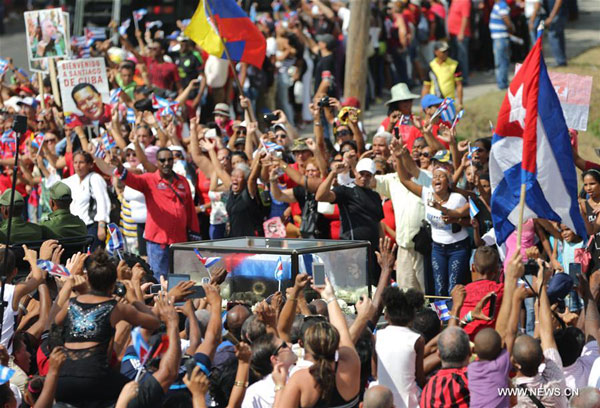 People greet the caravan carrying the ashes of Cuban revolutionary leader Fidel Castro upon its arrival in Santiago de Cuba, southeastern Cuba, on Dec 3, 2016. [Photo/Xinhua]
HAVANA - The ashes of Cuban revolutionary leader, Fidel Castro, arrived Saturday in Santiago de Cuba, where he will be laid to rest in the Santa Ifigenia cemetery on Sunday.
The final leg of his funeral procession travelled the last 120 km between the city of Bayamo to Santiago de Cuba, the place known as the Heroic City for "its decisive contributions to the complete and definitive independence of the Cuban nation."
The caravan also crossed some of the city's key spots, including the former Moncada Barracks, now a school, on which Castro led a failed attack against the army of dictator Fulgencio Batista in July 1954.
Tonight, at 7:00 pm, a massive ceremony will be held in the city's Antonio Maceo Revolution Square, where President Raul Castro, Fidel's brother, will address a crowd of mourners and dignitaries.
On Sunday, concluding nine days of national mourning, Castro will be buried in the historic Santa Ifigenia cemetery, where lies the hero of Cuba's national independence, Jose Marti.