"Confucius Institute Day" observed in Laos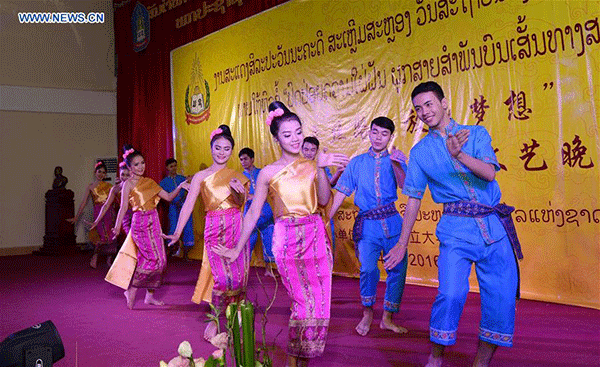 Members of Confucius Institute of National University of Laos perform during an art show in Vientiane, capital of Laos, Nov 4, 2016. An art show was held Friday in Vientiane to mark the Confucius Institute Day at the National University of Laos. [Photo/Xinhua]
VIENTIANE - The "Confucius Institute Day" was observed at the National University of Laos (NUOL) in the capital Vientiane on Friday.
The event was held on the occasion of the university's 20th anniversary.
NUOL's Confucius Institute was jointly established in 2010 by NUOL and China's Guangxi University for Nationalities. This is the first and the sole Confucius Institute in Laos.
At the ceremony, a series of art performances, including folk dances and Tai chi, among others, were staged, winning rounds of applause from participating teachers and students.
"Confucius Institute Day" is set on Sept 27 annually. This year in Laos, the day was observed as part of a series of celebrations marking the 20th anniversary of the NUOL, which falls on Nov 5.
During the activities to mark the celebration, Lao Prime Minister Thongloun Sisoulith and a delegation of Lao ministers visited the booth of Confucius Institute and experienced Chinese cultural features, including Beijing Opera mask painting and others.