Obama faults FBI on disclosing Clinton email probe near Election Day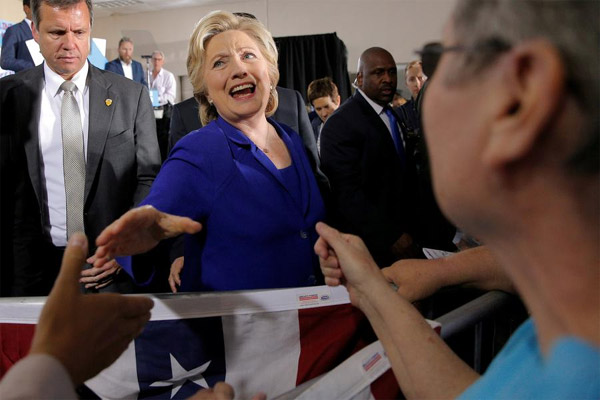 US Democratic presidential nominee Hillary Clinton greets audience members at a campaign rally in Las Vegas, Nevada, November 2, 2016. [Photo/Agencies]
WASHINGTON - US President Barack Obama on Wednesday appeared to criticize Federal Bureau of Investigation (FBI) Director James Comey's decision to disclose new development of FBI's probe into Democratic presidential nominee Hillary Clinton's email practices 11 days before the election.
In his first comments on the FBI's announcement that rocked the presidential campaign, Obama did not criticize Comey directly in his interview with NowThis News. However, Obama did not shy away from venting his frustration.
"I do think that there is a norm that when there are investigations, we don't operate on innuendo," said Obama in the interview released on Wednesday. "We don't operate on incomplete information. We don't operate on leaks. We operate based on concrete decisions that are made."
Comey informed the Congress last Friday that the FBI was reviewing new emails which may be relevant to Clinton's email probe.
However, Comey said the FBI "cannot yet assess whether or not this material may be significant," adding that he could not predict how long it would take investigators to complete the "additional work."
Local media reports later cited anonymous sources as saying that the emails were found on a laptop used by Anthony Weiner, the estranged husband of Clinton's top aide Huma Abedin.
Weiner is currently under federal investigation for allegedly sending sexually explicit messages to an underage girl.