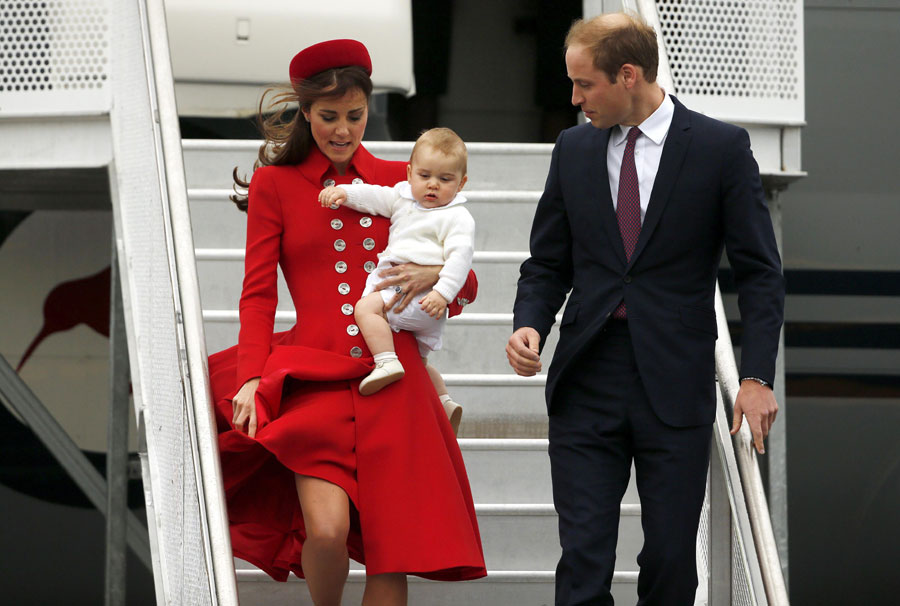 Britain's Prince William, his wife Catherine, Duchess of Cambridge, and their son Prince George disembark from their plane after arriving in Wellington April 7, 2014. The Prince and his wife Kate are undertaking a 19-day official visit to New Zealand and Australia with their son George. [Photo/Agencies]
Britain's baby Prince George embarked on his first official tour on Monday, visiting New Zealand with parents William and Kate, but the 8-month-old missed the famed Maori welcome after being whisked indoors amid wild weather.
Strong winds, rain and poor visibility greeted the royals in Wellington at the start of a three-week visit to New Zealand and Australia that marks the beginning of a lifetime of regal duties for Prince George.
Kate, 32, struggled to keep her dress and pillbox hat under control as she carried her son down the steps of a New Zealand Air Force plane to be greeted by Prime Minister John Key.
The chubby baby was dressed in shorts and a white cardigan. Kate wore a buttoned-up red coat by designer Catherine Walker, adorned with a silver fern brooch that was a gift to Queen Elizabeth II when she visited New Zealand in 1953.
"I don't think their enthusiasm for coming to New Zealand has been dampened at all by the fact that we all got wet today on the tarmac," Key told reporters.
"My sense is that they're going to captivate the nation. ... Hopefully, they'll have a great time."
The arrival was one of the first times George, who is third in line to the throne, has been seen in public since his birth on July 22.
He will be present at only a few engagements on the tour, with the family based in Wellington and committing to a relatively light schedule of day trips and rare evening functions while in New Zealand.
George did not attend the official welcoming ceremony on the lawns of Government House, as driving rain swept Wellington.
Traditional challenge
His father, William, was greeted with a traditional Maori challenge from fearsome-looking tattooed warriors in flax skirts wielding wooden spears, who threw a leaf at his feet as they issued a full-throated battle cry.
The prince responded by picking up the leaf, symbolically showing he was a friend, before he and Kate performed a nose-touching ceremony with Maori elders.
Kate, who has never been to New Zealand or Australia before, chatted to warriors in traditional dress with bare backsides, and was overheard telling one of the Maori dancers that the indigenous welcoming ceremony was "super".
William, 31, second in line to the throne, has visited both countries several times.
Prince Charles and Princess Diana took him as a baby on their tour in March and April 1983. His most recent trip was in 2011, when he comforted victims of the Christchurch earthquake and of devastating floods in Australia.
Crowds were relatively sparse due to the rain in Wellington, although a group of children huddled under umbrellas were rewarded with a brief chat with William and Kate before the royal couple headed inside.
The visit has sparked intense interest in New Zealand, with discussion ranging from how George's baby car seat has been installed to whether the country should retain the monarchy.
Don McKinnon, former New Zealand deputy prime minister, said on the weekend that it was inevitable New Zealand would one day become a republic, even though people still felt great respect for the royals.
Key said McKinnon may be right, but change would not happen anytime soon as support for the monarchy has increased in recent years.
"There's been a resurgence in the desire for New Zealand to remain a constitutional monarchy, in part due to the young royals," he said.
The prime minister said he would discuss his plan to change New Zealand's flag, dropping Britain's Union Jack from the corner, with the royals during their trip and felt confident they would support whatever decision the country made.
The royals will have a rest day on Tuesday, then George may have a play session with a group of local babies on Wednesday. His parents will ride in a jet boat and sail America's Cup yachts while in New Zealand.
The Australian leg of the trip includes an excursion to Uluru (Ayers Rock) in the center of the country.
William and Kate were treated like rock stars on their first foreign trip, a tour of Canada and the United States soon after their wedding in 2011.
In 2012, they toured Singapore, Malaysia, the Solomon Islands and Tuvalu as part of Diamond Jubilee celebrations marking Queen Elizabeth's 60th year on the throne.
Agence France-Presse