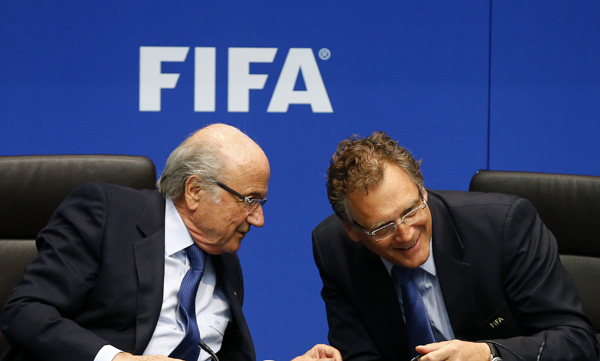 FIFA President Sepp Blatter (L) talks to FIFA Secretary General Jerome Valcke during a news conference after a meeting of the FIFA executive committee in Zurich March 21, 2014.
  [Photo/Agencies]
RIO DE JANEIRO - FIFA secretary-general Jerome Valcke will this week increase pressure on Brazil's World Cup organizers by visiting three stadiums that are yet to be ready for football's signature event.
Valcke will inspect Sao Paulo's Itaquerao stadium on Tuesday followed by Arena da Baixada in Curitiba and Cuiaba's Arena Pantanal on Wednesday.
He will also fly to the northeastern city of Fortaleza and take part in the local organizing committee's board meeting in Rio de Janeiro on Thursday.
It is expected to be Valcke's final visit to Brazil before returning in late May and remaining until the end of the tournament.
FIFA originally set a December 2012 deadline for the country's 12 World Cup stadiums to be ready.
It is understood local officials have been told the venues in Sao Paulo, Curitiba and Cuiaba must be ready by May 15 - a month before the tournament begins.