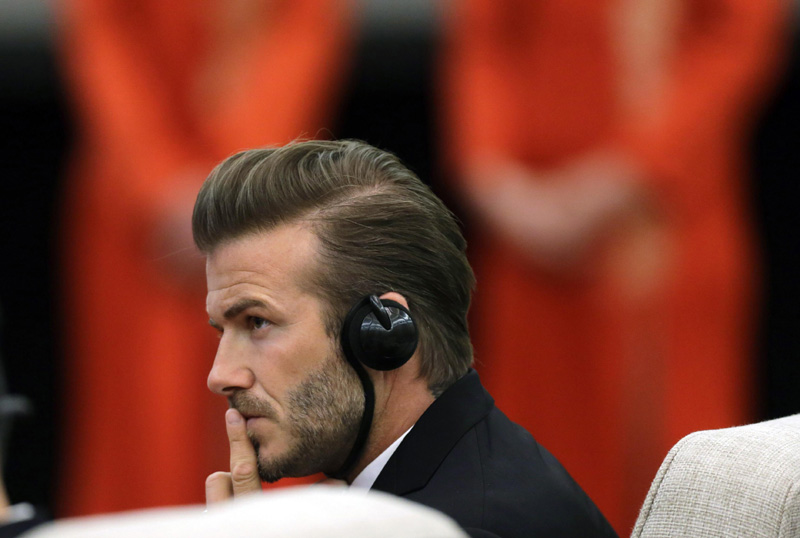 Former captain of England soccer team David Beckham attends a ceremony at the Great Hall of the People in Beijing April 21, 2014. The ceremony marks the establishment of a youth soccer fund under his name to support youth soccer and youth development in China. [Photo/Agencies]
Youth soccer in China's rural areas has new hope after British star David Beckham launched a foundation to support the sport's grassroots development in Beijing on Monday.
Beckham, former Premier League club Manchester United icon, appeared at the Great Hall of the People on Monday to announce the establishment of the Youth Football Fund, which he and the China Soong Ching Ling Foundation support.
It is Beckham's third trip to China to promote soccer since taking the youth ambassador role with the Chinese Football Association in March 2013, and this time he set his eyes on the country's underprivileged western region.
The foundation, which received its first donation of 3 million yuan ($481,800) on Monday from Beckham and his sponsor Jaguar Land Rover China, will focus on improving youth training facilities in the Xinjiang Uygur autonomous region this year, where children have few modern facilities due to lagging social economic development.
The foundation will donate school buses for the Xinjiang Soong Ching Ling Football School in Urumqi, the region's capital, and build an artificial soccer pitch for the Kashgar No 8 Primary School in southern Xinjiang, where public enthusiasm for the game is high.
Beckham has visited many cities in China's central and eastern areas to promote youth soccer by meeting student players on campus and making speeches at media events since last year. He said he would also like to be able to visit Xinjiang in the future.
The fund is the first of its kind to be established under the name of an international star to support youth soccer development in China.
Big stars shine at Auto China 2014

 
Dolce and Gabbana not convinced by Beckham designs  
  Sports stars' glamorous red carpet moments