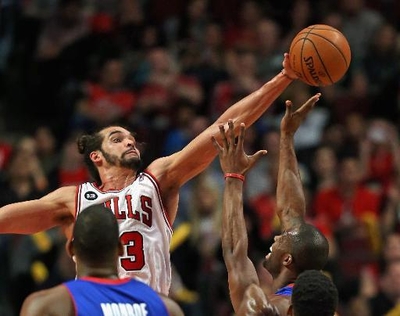 Chicago's Noah named Defensive Player of the Year
.[Photo/Agencies]  
DEERFIELD, Illinois - Chicago Bulls center Joakim Noah was named the NBA defensive player of the year on Monday in front of friends and family.
"This is very humbling to be in this situation right now," Noah said at a news conference where his family was in the front row. He told coach Tom Thibodeau: "Without your system, this wouldn't be possible."
Noah joins Michael Jordan in 1988 as the only Bulls players to win the award.
The recognition comes after he helped Chicago win 48 games and capture home-court advantage in the first round of the playoffs despite losing Derrick Rose to a season-ending knee injury and trading away Luol Deng. It also comes at a time when he's getting about as much praise for his ability on offense after being known primarily for his defense and rebounding.
Noah has improved in a big way in that area since he was drafted out of University of Florida in 2007. He was the Bulls' most valuable player this season, averaging career highs of 12.6 points, 11.3 rebounds and 5.4 assists. He's a focal point on offense, with the ball often being funneled through him, and he remains their anchor on defense. His ability to cover ground and rotate onto smaller players in pick-and-roll situations creates havoc for opponents. He averaged 1.5 blocks.
The recognition comes at a difficult time for Noah, whose mentor and second father figure Tyrone Green recently died. The Bulls, who won more games after New Year's Eve than any other Eastern Conference team, dropped the playoff opener to Washington on Sunday after blowing a 13-point lead. Game 2 is on Tuesday in Chicago.
AP Basketball Writer Brian Mahoney in New York contributed to this report.