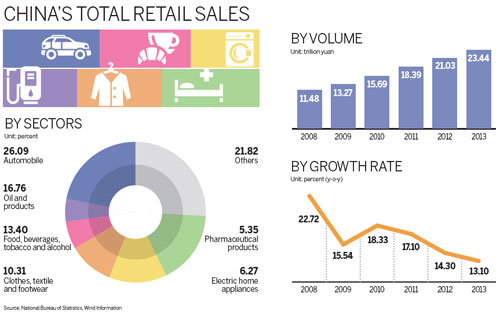 Li Yi / China Daily
Growth in retail sales is expected to be flat this year at 13 percent, with most of the momentum coming from rising incomes and relaxed one-child policies, according to a retail industry report from a government think tank.
China is unlikely to introduce broad consumption stimulus policies this year, said Zhao Ping, deputy director of the Chinese Academy of International Trade and Economic Cooperation, which is under the Ministry of Commerce.
She said it's difficult to continue providing direct subsidies for consumption in view of slower tax revenue increases. Instead, growth in consumer goods sales will be mainly organic, said Zhao.
Zhao said that consumers will spend more to improve their living standard as incomes rise. They'll also increase consumption as a result of modifications to the one-child policy.
Last year, consumer spending that relied on public funds fell 10 percent, affecting the high-end luxury and gift markets. Sales of luxury watches and male apparel were hit the hardest.
Meanwhile, most of the luxury shopping by Chinese residents was done overseas - 70 percent, to be exact.
But Zhao said it's important to distinguish between high-end consumption and luxury spending with public money.
"They are related. But high-end spending is not all spending with public funds," she said.
Luxury spending will be "sluggish" this year, although the sector still has "massive" potential in the long term, Zhao said.
Luxury tobacco and alcohol products have been hit hard by the government austerity campaign, and their producers will find it challenging to recover this year.
Top Chinese liquor brands have cut prices to recapture market share among customers who are willing to spend 100 yuan ($16) to 300 yuan per bottle.
The situation in the catering industry is polarized. Nearly 90 percent of high-end restaurants saw their sales drop by an average of 50 percent in 2013. On the other hand, spending at restaurants that target the mass market grew more than 10 percent on average.
Spending on information services has become a highlight in retail spending, with the growth rate of online shopping exceeding 30 percent last year and shopping based on mobile devices expanding more than 50 percent.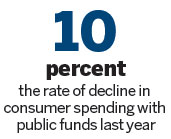 The report also said that service consumption will grow based on product consumption.
Overall dependence on property and vehicle consumption for retail sales growth is weakening, the report said.
Food and beverage consumption is expected to retain the same momentum that it had in 2013.
Zhao advised the government to stimulate consumer spending through an emphasis on urbanization. She also suggested an increase in imported products to meet domestic demand.
In 2013, imports of consumer goods expanded 24.5 percent, 17.1 percentage points faster than in 2012.