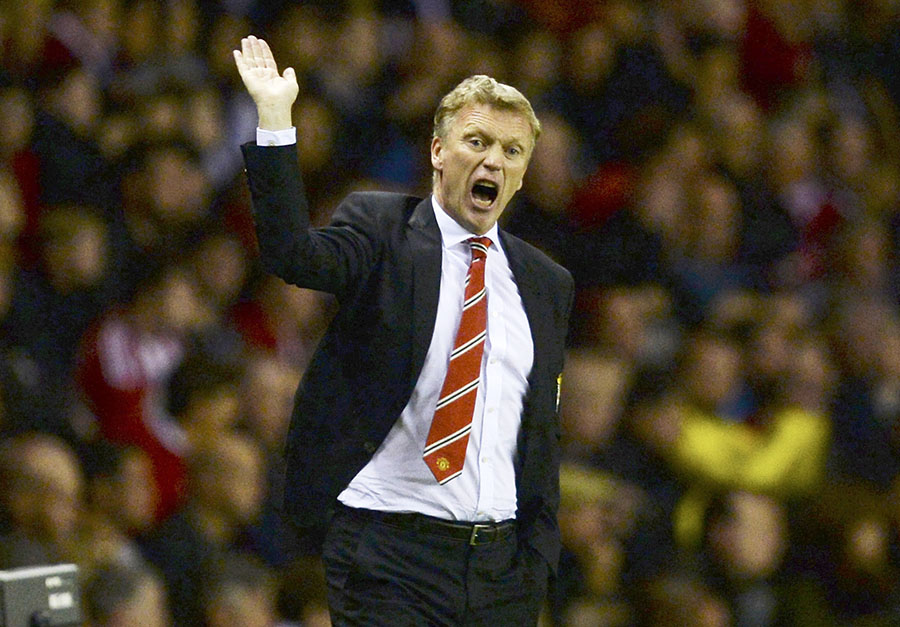 Then Manchester United's manager David Moyes gestures during their English Premier League soccer match against Sunderland at The Stadium of Light in Sunderland, northern England, in this October 5, 2013 file photo. Moyes, who has only been in charge of Manchester United since July, paid the price for a hugely disappointing season on April 22, 2014 when it was announced that he has left the club. [Photo/Agencies]
MANCHESTER, England - David Moyes left Manchester United on Tuesday after a hugely disappointing season as manager since replacing Alex Ferguson last July.
Announcing the departure in a brief statement, shortly after staff arrived for work at the Carrington training ground, United thanked the Scot for "the hard work, honesty and integrity he brought to the role".
Newspapers had earlier reported the game was up for Moyes, trumpeting the 'End of an Error' after the American owners, the Glazer family, lost patience.
Moyes, who turns 51 on Friday, was appointed on the recommendation of fellow-Scot Ferguson, who retired at the end of last season after 26 years in the job.
Ferguson had steered United to the title last season for the 13th time last season and 20th overall.
Moyes's sudden departure evokes memories of the traumatic spell the Old Trafford club suffered between 1969 and 1971 when Matt Busby retired after 24 years as boss.
His hand-picked successor Wilf McGuinness only lasted 18 months before Busby took over the reins again.
It is highly improbable Ferguson will swap his lucrative career as an after-dinner speaker and business consultant for the dugout.
According to media reports, United have courted Dutchman Louis van Gaal, who will quit as coach of the Netherlands after the World Cup in Brazil in June and July.
Veteran midfielder Ryan Giggs, 40, who has been working as one of Moyes's coaching assistants, could be put in charge for the final four games of the season.
Moyes, who was previously in charge of Everton for 11 seasons without winning a trophy, was given a six-year contract by United but they have lurched from one crisis to another.
A shockingly lame performance in a 2-0 defeat at Everton on Sunday was the final straw for the Glazers, with seventh-placed United failing to qualify for the Champions League for the first time since 1995-96.