BEIJING - China and Britain have agreed to enhance cooperation in areas including high-speed railway, nuclear power and finance, Chinese Premier Li Keqiang said on Monday.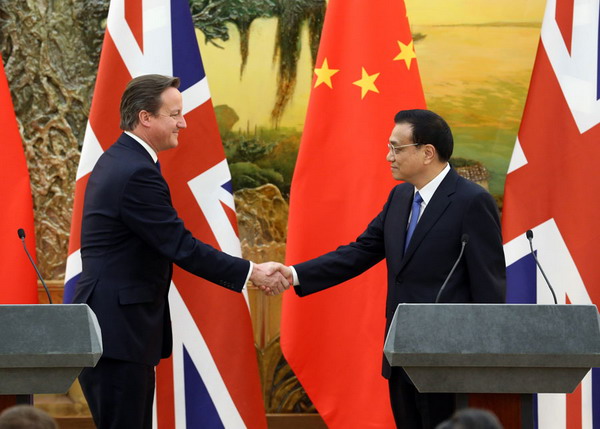 Chinese Premier Li Keqiang shakes hands with visiting British Prime Minister David Cameron during a press conference in Beijing, Dec 2, 2013. [Photo by Wu Zhiyi/Asianewsphoto]
Li told a joint press briefing with visiting British Prime Minister David Cameron that both sides agreed to promote each other's companies to seek breakthroughs in high-speed railway and nuclear power cooperation.
China is willing to have joint shares and even hold controlling interests in British nuclear power projects, Li said.
Bilateral cooperation in this area will also promote the opening of the third-party market and improve current and long-term employment prospects, according to the premier.
Concerning the financial sector, the two sides discussed conducting offshore RMB business in London and Chinese banks' opening of branches in Britain.
They agreed to expand bilateral high-tech trade and support cooperation in aerospace, offshore wind power and other new energy development, Li said.
He added that Britain has agreed to take measures as soon as possible to increase high-tech exports to China, while both sides will jointly establish an innovation and research fund of 200 million pounds.
More bilateral cooperation in traditional and new media is also on the cards to promote mutual understanding, according to Li.
On people-to-people exchanges, Britain will simplify visa procedures for Chinese tourists and business travelers and increase the frequency of flights, the premier was told.
Britain is willing to streamline processes for Chinese citizens to carry out business activities and tourism in Britain, hoping that this will bring more job opportunities to the country, Cameron said.
Invited by Li, Cameron arrived in Beijing on Monday morning for a three-day official visit to China.
The meeting between Li and Cameron is the first since the new Chinese administration took office early this year and is held against the backdrop of the upcoming 10th anniversary of the China-UK comprehensive strategic partnership.
China and Britain have become indispensable partners in each other's economic and social development, Li said at the press briefing, noting that Britain is the largest recipient of Chinese investment and students in the EU while China is Britain's second trading partner outside the EU.
On political realtions, Li said both sides agreed that China and Britain should adhere to mutual respect and equality, take care of each other's major interests and concerns and enhance political mutual trust.
The British side reaffirmed its respect for China's sovereignty and territorial integrity, adherence to the one-China policy and respect for China's core interests and major concerns, according to Li.
Li said as major world economies, China and Britain are both major forces in the international community, with bilateral relations having an important global impact.
The two leaders agreed that, in current circumstances, the two should continue to oppose trade protectionism and promote trade and investment liberalization.
The two sides should enhance cooperation on an international level and work together to promote nuclear non-proliferation and seek peaceful resolution for major international and regional issues.
Both sides should also promote exchanges between countries of different systems and civilizations, he said.
Both sides also inked agreements on investment, finance, legal affairs, culture and health cooperation.