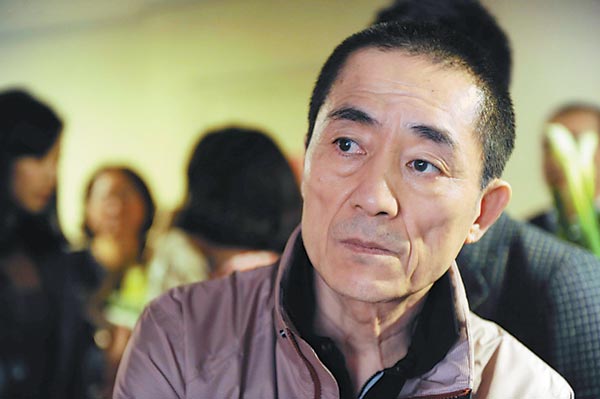 Chinese film director Zhang Yimou. File photo
Family planning authorities confirmed on Monday that film director Zhang Yimou fathered three children out of wedlock, ending months of speculation that he had fathered as many as seven children by various mothers.
Zhang admitted to having three children with his current wife, Chen Ting, and he apologized on Sunday evening in a statement posted on his studio's micro blog.
The apology came amid growing concerns about whether celebrities like Zhang can dodge the punishments of family planning laws.
The family planning authority in the Binhu district of Wuxi, Jiangsu province, which is the hometown of Zhang's wife, announced on Monday evening that Zhang fathered three children - in 2001, 2004 and 2006 - with his current wife before their marriage in 2011.
The authority said it welcomed the response from Zhang's studio, as well as Zhang's cooperation in the investigation.
"We hope that the party involved will continue to cooperate with the investigation and accurately declare his income in the birth year of each child. We will handle the case according to the law and in time will announce the result," an official with the family planning bureau in Binhu district said in an online statement.
According to family planning regulations in Jiangsu province, couples who give birth before their marriage is registered face the same fines as married couples who violate the family planning policies - five to eight times the average annual income of the area in which the children were born.
If a couple's annual income is more than double the area's average income, the couple will be subject to additional fines. The amount of any fine depends on the particular county or city that has jurisdiction.