Garment cloth cut in one direction
By Cecily Liu and Zhang Chunyan ( China Daily )
Updated: 2013-12-02 07:40:25
For Chinese apparel makers, London is the place to be
The oriental look is not everyone's cup of tea, and it is on that sentiment that at least one Chinese garment maker is trying to build its fortunes in Europe.
The evening gown designer eDressit of Shanghai opened a store in the heart of central London's fashion district, just behind Oxford Street, this year, one of many Chinese garment companies opening up branches and seeking new opportunities in the city.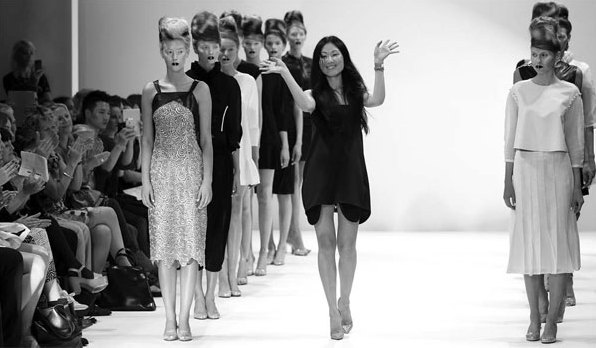 Chinese fashion receives applause and acclaim at the London Fashion Week show on Sept 13. Xinhua
In a shop big enough to display about 50 dresses, eDressit's evening gowns are mostly made of silk and satin, and layered with beads. In many different colors, they cost between 100 pounds ($155) and 1,000 pounds. But the design is Western, as are the models eDressit's employs to advertise its gowns. Flicking through eDressit's catalogue, it is hard to find any models who are Chinese or Asian-looking.
Even though the company's chairman, Sun Yujing, is of Chinese origin, and the eDressit store has a sizeable presence in China, it aims to brand itself as Western, believing that in so doing it will attract more Western customers.
The big thing about eDressit's garments is that only one of each is made, Sun said, "which means you won't run into someone else at a party wearing the same gown". "Although our products are manufactured in China, they can be delivered to the UK within a week if the customer requires."

She said eDressit has leased the London shop for two years, and after that her team may consider buying a store in London.
"We're not afraid of competition, and we want to catch the central London shopping traffic."
When eDressit was set up in 2005, Sun's team registered the brand in Dusseldorf and followed the registration with a store there and one in California.
Sun said the two stores have quickly attracted customers, including Chinese international students in these locations.
To broaden eDressit's influence, her team then launched the brand on many e-commerce platforms such as Amazon, as well as on its own website.
The company also now sells products through distributors in France and Switzerland and is looking at opening a shop in France.
Half of eDressit's revenue is generated from online sales, Sun said. Over time, eDressit's Chinese customer numbers grew, and the company decided to open a shop in Shanghai in 2010.
But the China sales remain a small part of its total revenue, she said.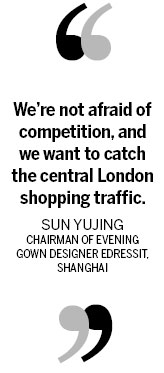 "Our dresses are suitable for large-scale parties, formal dinners and dance parties, and these events are quite typical of Western culture.
"In China, they are rarer, and Chinese customers may still not be used to wearing elaborate gowns."
The young Chinese designer Zhang Huishan founded his own label after graduating from Central Saint Martins College of Art and Design.
"Unlike eDressit's garments and their Western look, his are based on a style he describes as "Chinese tradition meets Western influence and modernity".
During his time studying, he worked for a year at Dior, including six months in the couture atelier.
This experience allowed him to become familiar with London's fashion culture, while his Chinese connection allowed him to add an extra twist to the style, and a team that makes the clothes in China where costs are relatively low.
Sharing Zhang's experience is Chinese fashion designer Jiao Yan, who started her own brand, Jovonna, in London in 2010. With a focus on casual clothes that target students and young professionals, Jovonna's items are sold in Topshop and the e-commerce portal ASOS.
Another Chinese company that has beaten a path to London is the down apparel maker Bosideng, which opened a shop in South Molton Street, close to Oxford Street, last year.
Unlike Bosideng China, the brand's London line specializes in designer men's clothes, with prices in line with well-known brands like Ted Baker.
UK chief executive Wayne Zhu said the rebranding exercise is an attempt to move up the value chain, from cost-effective apparel to top quality designer clothes. If the London model is successful, Bosideng will take the same model to other European countries, Zhu said.
Marie Hickey, associate director of research at the UK real estate agent Savills, said central London continues to attract Chinese fashion retailers because it is seen as a prime location for the trade. "We expect that other Chinese retailers who come to the UK will look to similar peripheral pitches which allow them to test the waters without the huge rents found on the primary streets, such as Bond Street and Regent Street."
"Chinese garment companies' brand and market positioning will determine their locations, she said. "International brands see London as a key platform for expansion into the rest of Europe."
Contact the writers through cecily.liu@chinadaily.com.cn and zhangchunyan@chinadaily.com.cn

Gear change
'Sustainable development', 'decisive role for markets' are the new buzzwords for Chinese economy.