Regional focus as PM visits Chengdu
By Zhuan Ti ( China Daily )
Updated: 2013-12-02 07:40:25
On Wednesday, UK Prime Minister David Cameron will visit Chengdu along with other ministers and a business delegation, a signal that the UK is eyeing a much broader China than just coastal areas and the nation's capital.
Chengdu is the only city in West China that has a direct flight to London. With a surging GDP and a well-developed transportation system, it is arguably the most dynamic city in the western region.
Chengdu's ongoing transformation from traditional industry and manufacturing to a center for high-tech and service sectors is what the UK is looking for in a regional partner.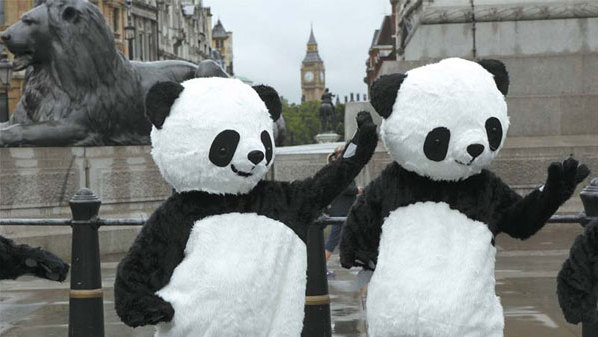 Big Ben meets the pandas, a sign of growing regional collaboration between China and the UK. Zhang Haizhou / For China Daily
And Chinese businesses are finding opportunities in regional Britain.
In recent years, Birmingham has become a focus of Chinese manufacturers, attracting investment from Shanghai Automotive Industry Corp, current owner of the MG, and NVC Lighting Technology Corp, China's largest lighting company.
In the last 5 years there have been 11 Chinese investments into Greater Birmingham - of which 10 were in Birmingham, creating 483 new jobs and safeguarding 544, a total of 1,027 jobs, according to statistics from Business Birmingham.
Across the wider West Midlands region, 23 Chinese investments have created and safeguarded over 1,400 local jobs in the past five years.

NVC has invested 15 million pounds ($24 million) to date in the city and is expecting to create 250 new jobs by 2015.
"We are being proactive on engaging with China," said Marek Dobrowolski, investment manager at Business Birmingham.
He noted that Chinese companies will have more investment opportunities as the city prepares to improve its infrastructure.
The UK government plans to spend 200 billion pounds ($327 billion) on the country's infrastructure over the next four years.
Scotland and Wales are also eyeing on collaboration with China in various sectors.
Exports of fresh Scottish salmon to China reached a value of 26 million pounds ($42 million) in 2012.
In the first nine months of 2012, exports of Scotch whisky were valued at 52 million pounds, according to Scotland's First Minister Alex Salmond, who recently visited China.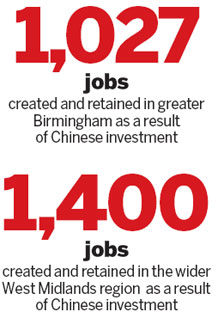 Salmond said there are many opportunities in other high-quality food and drinks as well as tourism, culture and education.
In 2011 and 2012 Scotland welcomed 7,485 Chinese students, an increase of 22 percent from the previous year.
A "sister region" to Chongqing, the Welsh government has a special week to promote and attract foreign investment in Chongqing.
Held around St David's Day, the Welsh National Day on March 1, it features business, education and cultural activities
"It has become a crucial event for Chongqing. The relationship is probably the most active between any part of the UK and China," said Gary Davies, director of European and External Affairs for the Welsh government.
He added that ties with Beijing and Shanghai are also developing fast.
He also noted the desire to have more Chinese tourists visit Wales.
"Next year, the China International Travel Service will for the first time include Wales in its UK tour program. We expect more Chinese tour operators to follow the move," Davies said. China International Travel Service is a leader in the Chinese travel industry.
"We are focusing our work on regional collaboration," he added.
zhuanti@chinadaily.com.cn

Gear change
'Sustainable development', 'decisive role for markets' are the new buzzwords for Chinese economy.