Surging student numbers opt for Britain's A-levels
By Su Zhou ( China Daily )
Updated: 2013-12-02 07:40:25
167 schools in China now certified to teach and test courses
Yang Dongxiao still re-members when he first saw Oxford University. Stunned by its beauty and academic atmosphere, he made up his mind that he must apply to British universities after high school.
Driven by his "obsession" with the UK, Yang then quit high school and transferred to Shenzhen College for International Education, which provides IGCSE and A-level courses used in the British educational system.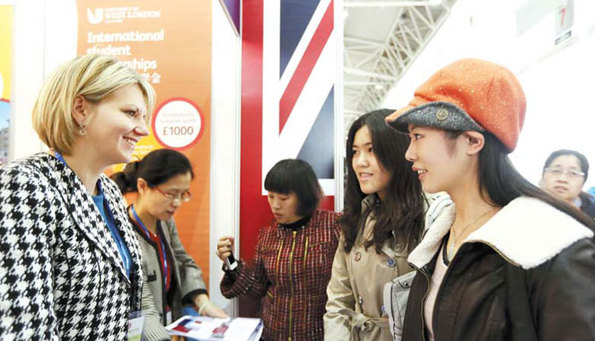 Students enquire at the British booth during an international educational expo in Beijing early this year. Da Wei / For China Daily
"I won't say that Chinese education is not good. I think it just doesn't fit me," said Yang, 17. "After I learned about A-level courses, I knew it was a new choice."
Yang is among hundreds of thousands of Chinese mainland students who are keen on the A-levels instead of courses at Chinese high schools.

There are now 167 schools authorized by Cambridge International Examinations or Pearson Edexcel to offer A-level subjects in China, a huge surge compared to the 10 in the field before 2003, according to a report from Beijing Hantong Education in October.
More than 2,300 students are on course to get their ratings and apply for overseas universities this year. Driven by the strong demand from local schools and students, the numbers continue to grow.
Figures from the UK Visa & International Education Centre headquartered in London show 110 to 120 schools offered A-level courses on the Chinese mainland in June this year. Nearly 50 were in the first-tier cities Beijing, Shanghai and Guangzhou.
"The popularity of A-levels on the Chinese mainland is partly due to the trend that more students are willing to study abroad at a younger age," said Cathy He, assistant director of Education Marketing at the Cultural and Education Section of the British Consulate.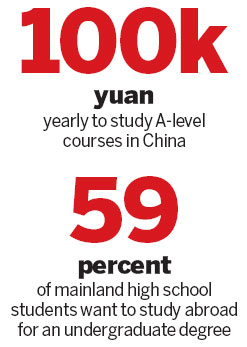 More than 59 percent of high school students want to study abroad for an under-graduate degree, while only 14 percent wish to go abroad after getting a bachelor's degree at home, according to a recent poll by the Chinese educational website eol.cn,
"A-level ratings, widely accepted by more than 11,000 universities in 160 countries and regions, can help Chinese students apply for better schools," said He.
And studying A-level courses in China is much cheaper than in Britain.
Wu Yue, founder of Beijing Hantong Education, said that the cost of studying for A-levels in China is about 100,000 yuan ($16,410) a year. The figure can triple in the United Kingdom.
Chinese students actually have more choices than the A-levels, especially with the introduction of International Baccalaureate and Advanced Placement programs.
But Wu said the A-level is a better choice for Chinese students as they are allowed to choose subject combinations freely.
"AP is only for US universities and IB is a little bit difficult for Chinese students," said Wu. "Chinese students can choose subjects they are good at, such as mathematics, physics and chemistry."
The Chinese mainland is now the largest source of overseas students in Britain, comprising nearly 15 percent of the total.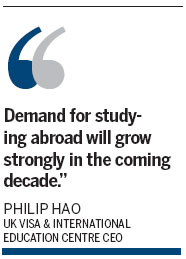 The popularity of A-levels on the Chinese mainland is expected to further boost the connection between China and Britain.
Philip Hao, CEO of the UK Visa & International Education Centre, noted tough competition to enter Chinese universities is another reason more students are choosing to go abroad through A-levels if they can afford it.
Demand for studying abroad will grow "strongly" in the coming decade, leading to a further rise in A-level schools and students in China, he said.
The popularity outside the UK will make British education more competitive, said Hao.
"After three or five years of overseas study, outstanding students will be familiar with Britain's culture, language and business environment. Their role in promoting Sino-UK exchanges on all levels can't be ignored," he added.
suzhou@chinadaily.com.cn

Gear change
'Sustainable development', 'decisive role for markets' are the new buzzwords for Chinese economy.