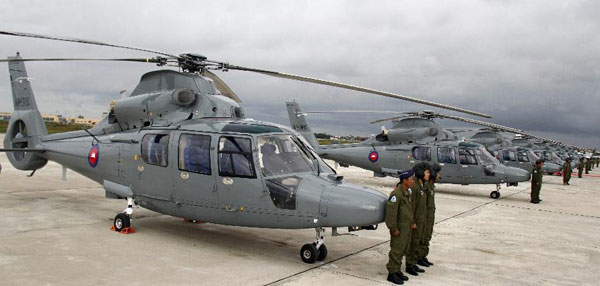 Chinese-built Zhi-9 helicopters at a handover ceremony in Phnom Penh, Nov 25, 2013. [Photo/Xinhua]
PHNOM PENH - Twelve Chinese-built Zhi-9 (Z-9) utility helicopters, which Cambodia had purchased from China, were delivered to the Royal Cambodian Air Force on Monday.
The handover ceremony was held at the capital's Military Airbase between Cambodian Deputy Prime Minister and Defense Minister Tea Banh and Chinese Ambassador to Cambodia Bu Jianguo.
Tea Banh said the helicopter delivery was a new historic achievement in addition to numerous supports the Chinese government has given to Cambodia.
"The helicopters will be used to serve training in order to strengthen capacity for the Royal Cambodian Armed Forces in defending territorial integrity and in cracking down on offenses in remote areas," he said. "They will also be used for humanitarian activities such as disasters."
Tea Banh also highly spoke of excellent relations and cooperation between Cambodia and China under the leadership of Cambodian Prime Minister Hun Sen and Chinese leadership.
"The friendship relations between Cambodia and China have moved closer, reaching the Comprehensive Strategic Partnership of Cooperation in 2010," he said. "The bilateral excellent ties will bring mutual benefits to the two countries and peoples."
Bu Jianguo said that the Z-9 choppers are capable of carrying people and materials in case of any emergency rescues.
"China believes that the helicopters will enhance capacity for the Royal Cambodian Armed Forces in emergency operations in case of any disasters," she said.
Soeung Samnang, commander of the Royal Cambodian Air Force, said the Z-9 helicopters were purchased from the China National Aero-Technology Import and Export Corporation (CATIC).
"They are medium-sized carriers," he said. "They will help increase efficiency and capacity for the air forces in their national defense duties," he added.  
China lent Cambodia $195 million dollars in August, 2011 to buy those choppers.