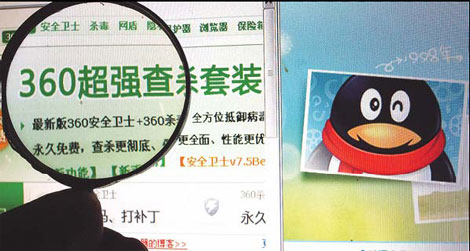 An Internet user in Chongqing reads Internet reports about the dispute between major Chinese online companies Tencent and Qihoo 360. [Photo / China Daily] 
A high-profile case involving two Internet giants in China will be heard in the country's top court on Tuesday. The court will also open the trial using multimedia in real time, by streaming the proceedings online.
Tencent, China's largest instant messaging service provider, was accused of abusing its dominant market position in the case filed by Qihoo 360, an anti-virus software company, according to Guangdong High People's Court, which earlier rejected all claims by Qihoo 360.
Now a second trial will be heard the Supreme People's Court.
The court will be broadcast via its official micro blog, which was established last week, and several television media outlets. It is the first time that the top court is making use of multimedia to open its work to the public, aiming to improve judicial transparency.
Tuesday's proceedings will be the first anti-monopoly case among Internet companies heard by the Supreme People's Court since China's Anti-Monopoly Law was enacted on Aug 1, 2008.
The relationship between Tencent and Qihoo 360 soured in September 2010, when Qihoo 360 accused Tencent of invading the privacy of its users through QQ Doctor, a security program developed by Tencent for use with its popular QQ instant messaging service.
Tencent shot back two months later, saying that it would shut down the QQ instant messaging service on computers that had security software created by Qihoo 360 installed on them.
In October 2011, Qihoo 360 sued Tencent for hindering market competition and abusing its market position. It also claimed 150 million yuan ($24.6 million) in compensation from Tencent.
After the trial that lasted nearly a year, Guangdong High People's Court ruled on March 28 that Tencent did not create a monopoly and all of Qihoo 360's claims were rejected.
The court had tried to mediate between the two sides but failed, Xinhua News Agency said.