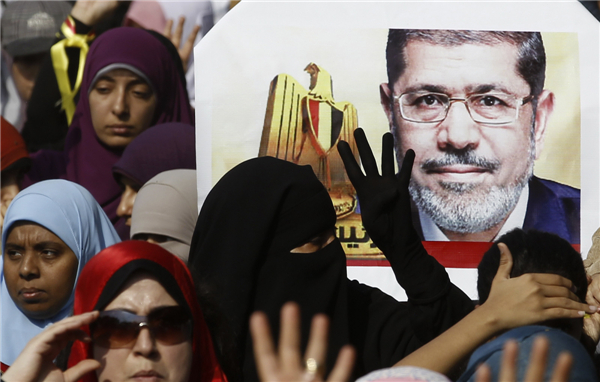 Supporters of the Muslim Brotherhood and ousted Egyptian President Mohamed Morsi take part in a protest against the military and interior ministry in the southern suburb of Maadi, on the outskirts of Cairo, Nov 1, 2013. [Photo/Agencies]
CAIRO -- The first session of the trial of Egypt's ousted Islamist president Mohamed Morsi started in Cairo on Monday, according to the state TV.
Morsi, who is affiliated to the Muslim Brotherhood, is charged with inciting the killing of protesters outside his presidential palace in December of 2012.
The trial raised fears of renewed violence and clashes across the country. Egypt is on high alert for the trial and nearly 20,000 policemen have been deployed to deal with any outbreak of violence.
In November 2012, Morsi issued a decree granting himself sweeping powers, prompting opponents to accuse him of failing the ideals of the anti-Mubarak revolution. A month later, deadly clashes erupted outside the presidential palace between supporters and opponents of the president. Morsi is facing allegations of inciting that violence.
According to Xinhua correspondent, neighborhood of the courthouse was tightly secured by several armored vehicles and hundreds of soldiers and policemen.