At least 28 killed in strong Philippine quake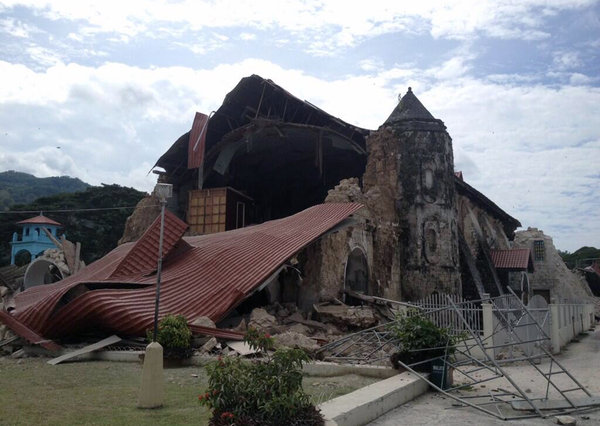 Damage to the roof and structure of the Church of San Pedro in the town Loboc, Bohol, is seen after a major 7.2 magnitude earthquake struck the region, on Oct 15, 2013. The earthquake hit near one of the Philippines key tourist hubs, the United States Geological Survey reported. [Photo/CFP]
MANILA - The death toll from the magnitude 7.2 quake that struck central and southern Philippines on Tuesday climbed to 28, Philippine President Benigno Aquino III said.
"As of 2 pm, 28 dead: 18 in Bohol, nine in Cebu, one in Siquijor," Aquino told reporters at the National Disaster Risk Reduction Management Council (NDRRMC).
The epicenter of the quake, the biggest to have hit the Philippines in a couple of years, was about five to 10 kilometers from Carmen in Bohol (island) province, and was felt as far as Davao City in Mindanao, hundreds of kilometers down south.
Jenirose Torotoro, a resident in Mindanao's Butuan City, said she felt strong tremor for at least a minute, and saw many panic- stricken people rushing out of their homes. Power was cut for over an hour but was now restored, she said.
Philippine Institute of Volcanology and Seismology Director Renato Solidum said the earthquake is considered shallow with a depth of 33 kms, adding it is not likely to expect very strong aftershocks.
According to televison footage dozens of churches and other structures in Bohol have been damaged. Some heritage sites, including the Loboc Church and Baclayon Church, had suffered serious damages. Cracks were seen on the ground.
Reports said public and private schools in the cities of Cebu and Dumaguete in Central Visayas were closed after the strong earthquake. Local education departments ordered inspection of the safety of school buildings. Cebu Pacific Airlines cancelled its flights Manila-Tagbilaran-Manila.
The provincial governments of Cebu and Bohol declared the state of calamity in their provinces.
President Aquino ordered key government officials to provide all necessary assistance to affected communities.
Philippine Red Cross deployed action teams to do assessment and also put in place a national disaster response team.
At least 69 injured in Tagbilaran Bohol were transfered to hospital, said Department of Heath Director Carmencita.
The Department of Social Welfare and Development earmarked about 90 million pesos ($2.08 million) for relief assistance in earthquake-affected areas.