250 killed, 400 injured after earthquake hits SW Pakistan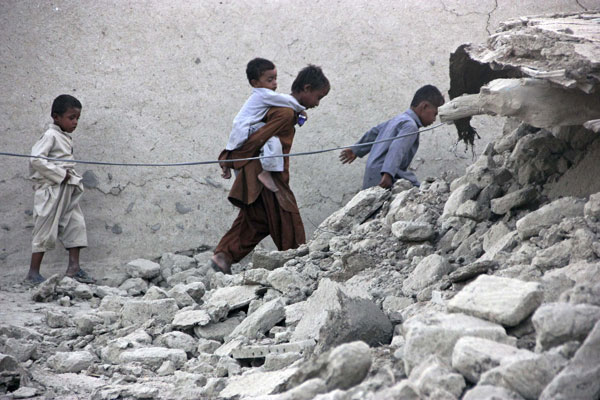 Survivors of an earthquake walk on rubble of a mud house after it collapsed following the quake in the town of Awaran, southwestern Pakistani province of Baluchistan, September 25, 2013. The death toll from a powerful earthquake in Pakistan rose to at least 250 on Wednesday after hundreds of mud houses collapsed on people in a remote area near the Iranian border, officials said. [Photo/Agencies]
ISLAMABAD - At least 250 people were killed and more than 400 others were injured till Wednesday afternoon in a 7.7 magnitude earthquake that hit Pakistan's southwest Balochistan province on Tuesday afternoon, officials said Wednesday.
Jan Muhammad Buledi, spokesperson of the Balochistan government, told the media that Awaran district of the province, the epicenter of the earthquake, was the worst-hit area, where about 40 to 50 percent of houses in urban area and 90 percent houses in rural areas were leveled to the ground.
Awaran, about 645 km away from Balochistan's capital Quetta, is home to 300,000 people and is among one of the country's least- developed districts where health, medical and other facilities are not easily available.
The spokesperson said that rescue teams have so far pulled out 210 bodies and more than 300 injured people from thousands of demolished houses, where rescue work is still going on.
Rasheed Gadozai, deputy commissioner of Awaran, told local media that an estimated 100,000 people have been affected in Awaran, while losses in some of the district's far-flung areas are yet to be determined as rescue teams couldn't reach there yet due to mountainous ridges in the area where road network were damaged by the quake.
The Balochistan government has declared emergency in six quake- hit districts where 40 people were killed, hundreds of others were injured when their houses were razed to ground due to strong quake tremors.
Provincial government kicked off rescue operations in the area and announced a budget of about 1.6 million dollars for immediate rescue and relief. The government dispatched two trucks carrying food for the affected people.
Awaran's District Commissioner sought help from the army and government, as the district administration doesn't have adequate facilities to provide relief to the affected.
Pakistan army sent 1,600 troops to the worst hit areas of Khuzdar and Awaran, and shifted 174 people to hospitals after recovering them from the debris of collapsed houses.
Inter Services Public Relations, the mouthpiece of Pakistan army said that they dispatched a team of 1,000 troops to the quake- site on Tuesday night, while 600 more were sent to the area on Wednesday.
The military has provided 200 tents and 7,000 kg of food to the affected people, meanwhile a team of 21 military doctors and 50 medics arrived in the area to provide medical treatment.
Six army helicopters are taking part in the rescue work to airlift the seriously wounded people to hospitals in the country's southern port city of Karachi.
Pakistan's Navy also set up a medical camp in Gwadar area and dispatched a ship carrying blanket, tents, medicine, food and water. The Navy spokesperson said that they have sent 300 troops on aircrafts to the quake-hit areas.
Provincial disaster management authority of Balochistan sent 19 trucks carrying food, water, blankets, tents and other necessities to the affected people.
The earthquake measuring 7.7 magnitude on Richter scale hit Balochistan and parts of the country's east and south provinces of Punjab and Sindh. The quake was determined to be at 29.09 degrees north latitude and 65.61 degrees east longitude.
Meteorological Department said Wednesday that several aftershocks including one of 5.9 magnitude were recorded following the major quake that struck the country at 4:29 p.m. local time Tuesday.