5.1-magnitude earthquake rattles Urumqi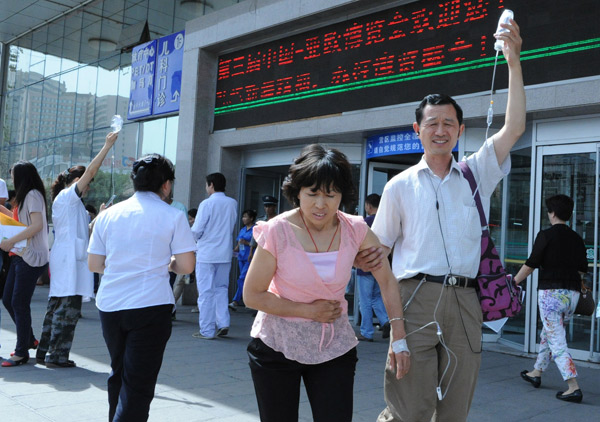 Patients in hospitals were evacuated after a 5.1-magnitude earthquake jolted Urumqi at 1:27 pm on Friday. ZHANG WANDE / FOR CHINA DAILY
A 5.1-magnitude earthquake hit Urumqi, the capital of the Xinjiang Uygur autonomous region, at 1:27 pm on Friday. No casualties were reported.
Some residents said telecommunications were temporarily interrupted as they could not make phone calls for a while, but the city has returned to normal.
The epicenter, with a depth of 12 kilometers, was monitored at 43.8 degrees north latitude and 87.6 degrees east longitude, according to the China Earthquake Network Center.
Zhang Yong, deputy director of the Xinjiang Earthquake Bureau, said the epicenter was near Redhill Park in downtown Urumqi.
He said earthquake epicenters under cities are rare.
Since 2011, Xinjiang has seen 20 earthquakes with a magnitude above 5.0.
The earthquake bureau sent teams to assess different areas of the city after Friday's quake.
"The seismic intensity degree is 5 to 6." Zhang said, "Some old and dangerous houses may have big cracks.
"But buildings in Urumqi are built to withstand earthquakes with a seismic intensity of 8, so those buildings would be OK in this earthquake."
Zhongshan Road is a commercial street near the epicenter, and a large number of people there were out for lunch when the earthquake hit.
Winka Times, a shopping mall on the street, had a crack of about 2 meters on the surface of the seventh floor and some window frames warped.
Zhang Haixia, a cosmetics seller working on the first floor, said she immediately ran outside when she felt the quake.
Liu Shuai, working at a parking lot nearby, said the windows of buildings rattled loudly.
He saw people run out of buildings and stand in the middle of roads to avoid being hit by falling debris.
Zhang himself ran to a yard and called a family member to make sure they were safe.
Liu Xinlai, a shop owner on the road, didn't realize what had happened when the quake hit. She said she thought at first that someone had thrown garbage onto the ground from an upper floor. Soon, cigarettes and drinks fell from the shelves.
"Then I knew it was an earthquake," Liu said. "My first response was to hold the commodities to avoid losses."
Tianshan district, where the epicenter was located, was affected the most.
Other districts of Urumqi also felt the quake. Korla, about 250 km southwest of Urumqi on the other side of Tianshan mountain range, also felt the earthquake.
Residents living in high apartments experienced severe shaking.
Zhang Liang, a middle school student who lives in Shayibake district, near Tianshan district, was at his 19th-floor home when the quake occurred.
He said he felt violent shaking at home. "Even the TV was about to fall down while the photos on the walls fell down." Zhang said. "I didn't care about that and rushed to the bathroom. The shaking lasted 15 to 20 seconds."

Editor's picks

Copyright 1995 - . All rights reserved. The content (including but not limited to text, photo, multimedia information, etc) published in this site belongs to China Daily Information Co (CDIC). Without written authorization from CDIC, such content shall not be republished or used in any form. Note: Browsers with 1024*768 or higher resolution are suggested for this site.
Registration Number: 130349