Progress necessary for Sino-ROK FTA talks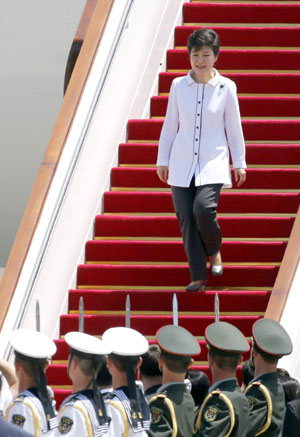 South Korean President Park Geun-hye arrives at the airport in Beijing June 27, 2013. Park arrived in Beijing on Thursday for her four-day state visit and will hold her first summit with Chinese President Xi Jinping.[Photo/Agencies]
SEOUL - Substantial progress will be necessary for negotiations of the free trade deal between Beijing and Seoul, South Korea's top economic policymaker said Thursday ahead of the summit between leaders of the two countries.
"It is necessary to seek substantial progress that can conclude the first-stage FTA talks, now when one year has passed since the two countries launched the negotiations," Finance Minister Hyun Oh-seok said at a meeting with other policymakers.
His comments came ahead of the summit talks between Chinese President Xi Jinping and South Korean President Park Geun-hye in Beijing later in the day. Park started a four-day visit to China on Thursday.
"If two leaders re-confirm a consensus on the need for progress of FTA talks at the summit, we should use it as a momentum and make intensive negotiation efforts," said Hyun.
The minister said China became the most important collaborator when South Korea implements overseas economic policy, adding that Beijing is Seoul's largest trading partner.
Since the two neighbors established diplomatic ties in 1992, their annual trade  has grown almost 50 times and reached $256 billion in 2012, according to Chinese official statistics.