Apple unveils new mobile software platform
SAN FRANCISCO - Apple Inc on Monday unveiled new mobile software that it described as the most revolutionary overhaul of its operating system since the iPhone was introduced in 2007, sporting a revamped layout with fresh colors, new animation and more depth to its display.
As Apple kicked off its annual conference in San Francisco for its developers, executives also showed off a new line of Mac computers and said that updated Siri voice software used on the iPhone now incorporates Microsoft Corp's Bing search engine.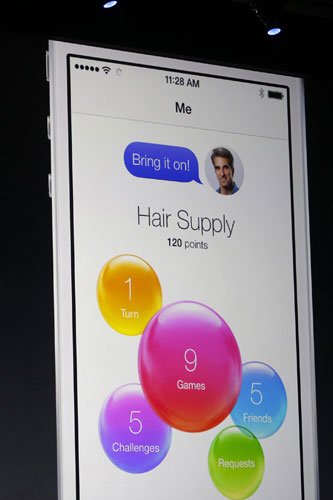 The new Apple iOS 7 Game Center is presented during Apple Worldwide Developers Conference (WWDC) 2013 in San Francisco, California, June 10, 2013. [Photo/Agencies]
Called iOS 7, the smartphone and tablet platform redesigned by resident creative honcho Jonny Ive comes with a new edge-to-edge look that uses translucency to highlight underlying content, new typefaces, and new icons.
Kleiner Perkins venture capitalist Matt Murphy, who runs the firm's iFund, tweeted that the new iOS platform "Looks livelier, happier, approachable."
It will also support multitasking for all apps, executives said. "It's the biggest change to iOS since the iPhone," said CEO Tim Cook.
Apple also said that Siri, the voice-activated personal digital assistant, comes with all new male and female voices, a new look, and is now directly integrated with Bing.
Some industry experts have criticized Apple's mobile operating software, which has retained its general look and feel since its inception, for looking somewhat dated.