Putin, Netanyahu hold crunch talks on Syria
Western concerns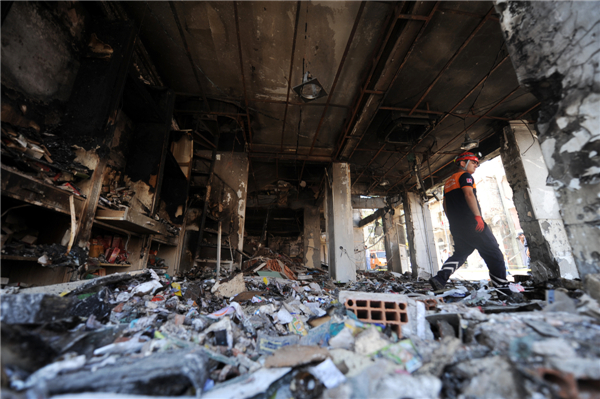 An officer walks through the wreckage of a building on Tuesday near the Turkish town of Reyhanli, just a few kilometers from the main border crossing into Syria. The death toll in twin car bombings in Reyhanli has increased to 51. [Photo/Agencies]
The West and Israel are particularly concerned about Russia's refusal to rule out further deliveries of advanced S-300 missile batteries to Syria under an existing contract.
Netanyahu has been expected to emphatically warn Putin against delivering such weaponry, which would severely complicate any future air attacks against the Syrian government.
Neither leader mentioned the missiles in their opening remarks.
In recent years Putin has worked to improve relations with Israel, which is now home to a large Russian-speaking community, after tetchy ties in the former Soviet era when Moscow was perceived as staunchly pro-Arab.
The issues have some parallels with a trip Netanyahu made to Moscow in September 2009 for talks with Kremlin deemed so sensitive that the visit was kept secret at the time.
According to Israeli media, on that trip Netanyahu is believed to have raised fears about a Russian plan to deliver S-300s to Iran that Moscow eventually decided not to fulfill.
Viktor Kremenyuk, deputy director of the USA and Canada Institute, suggested that during the current trip Netanyahu would warn Putin that the Israeli air force would target the S-300s should the Kremlin decide to deliver them to Syria.
Russian Foreign Minister Sergei Lavrov said last week that Moscow was "completing" supplies of equipment to Syria agreed under previous contracts.
According to the Wall Street Journal, the 2010 contract with Syria includes six launchers and 144 missiles, each with a range of 200 km.
AFP-AP