Assad: Chance alive for dialogue in Syria
DAMASCUS - Syrian President Bashar al-Assad said Wednesday that what is happening in Syria is a "war" in all sense of the word but there is still chance for dialogue with the opposition.
"Syria is subject to a colonization attempt with all possible means and different ways ... they are trying to colonize Syria with powers that come from abroad," Assad told the pro-government al-Ekhbaria TV.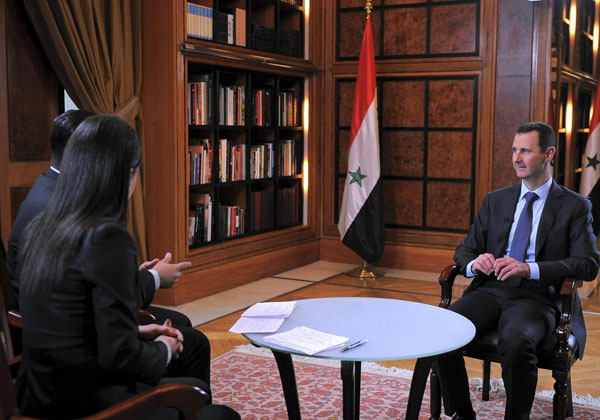 Syria's President Bashar al-Assad (R) attends an interview with Syrian television channel al-Ikhbariya in Damascus, in this handout photograph distributed by Syria's national news agency SANA on April 17, 2013. [Photo/Agencies]
The interview was aired Wednesday evening as Syria marks the anniversary of the 1946 withdrawal of French troops from Syria that ended France's mandate of the country.
Syria's Foreign Ministry said Tuesday that France must stop intervening in Syria's internal affairs after France questioned the fresh general amnesty issued by Assad, which would see the release of 7,000 prisoners, as "a maneuver to buy time".
Assad's remarks also referred to the rebels whose ranks had been overwhelmed with radical Islamists affiliated with al-Qaida terror network, after the radical al-Nusra Front in Syria had pledged allegiance with al-Qaida recently.
Syria is fighting a group of "gangsters ... a group of mercenaries that get money from abroad in exchange for certain sabotaging acts ... There are the Takfirris, or the (al-)Qaida or . .. al-Nusra ... all of them are laying under an intellectual umbrella", he said, stressing that those groups had received very "harsh blows" from the Syrian army and they were "either eliminated in some places, or moved compellingly to work under the umbrella of al-Qaida".
Assad also downplayed talks of partitioning Syria, saying "there are no real bases for fragmentation".
He meanwhile said thousands of terrorists with their arms had poured into Syria from neighboring Jordan, calling on the kingdom's officials to be "more aware" as "the fire will not stop only at the Syrian border" but continue to reach other regional countries.
"Fire doesn't stand at our borders and all people know that Jordan is liable to it in as much as Syria is subject to."
Assad said the foreign element had been a fundamental factor since the outbreak of the Syrian crisis, adding that the Western powers are fighting al-Qaida in Mali but at the same time supporting them in Syria.
The West's aim behind supporting terrorism in Syria is to weaken the country but terrorism will backfire on the West, he noted.
The West and the United States have to pay the price for backing terrorism and see the results in their countries, and their calls for humanitarian intervention in Syria aim only to destroy the Syrian human, said the president, who reiterated that the crisis in his country was plotted and "We have no choice but to be victorious".
Taking the chance, Assad also said the conditions in Syria are now better compared to those at the beginning of the crisis and the Syrian people are aware of the dangers and the media fabrication.
Regarding dialogue with the opposition, the president said "we want all parties to participate ... to make dialogue a success."
"All doors for dialogue are open," he said. "Anything is negotiable ... There are no red lines but in two things: Syria's independence, which means no foreign interference in any internal affairs ... and supporting terrorists."
After the broadcast of the interview, celebratory gunshots overwhelmed the capital Damascus from many military outposts and checkpoints.