Boston bomb suspect spotted on video
BOSTON/WASHINGTON - Investigators have spotted a Boston Marathon bombing suspect from security video taken before two blasts ripped through central Boston on Monday, a US law enforcement source said on Wednesday, in what is potentially the biggest break in the case yet.
No arrests had been made, and the suspect in the video had not been identified by name, two US government officials said. Police may make an appeal to the public for more information at a news conference scheduled for later on Wednesday, a US government source said.
The explosions at the Boston Marathon finish line killed three people and injured 176 others in the worst attack on US soil since September 11, 2001.
The bombings as well as subsequent reports that someone tried to mail the deadly poison ricin to US President Barack Obama - the second report of such a letter in two days - have created a climate of uncertainty in the country. Nerves were jolted further by an inaccurate report on cable news network CNN that a bombing suspect had been arrested.
Shortly after CNN retracted its report of an arrest in the case, security officials at Boston's federal courthouse ordered staff, media and attorneys to evacuate due to a security scare and move at least 100 yards (91.4 meters) away, according to a Reuters reporter on the scene.
Bomb-sniffing dogs, fire engines and heavily armed and helmeted police arrived at the courthouse, which was reopened to employees an hour later.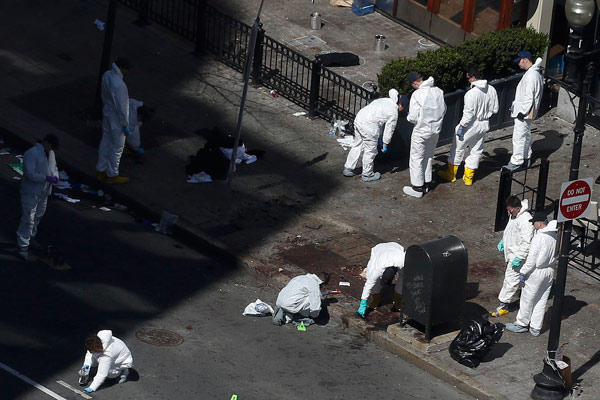 Officials take crime scene photos two days after two explosions hit the Boston Marathon in Boston, Massachusetts April 17, 2013. [Photo/Agencies]
In Washington, authorities were investigating a letter addressed to the president after the contents preliminarily tested positive for the ricin. Authorities had intercepted a letter sent to Republican Senator Roger Wicker of Mississippi on Tuesday that also preliminarily tested positive for ricin.
The FBI said there was no indication of a connection to the Boston bomb attacks, but they reminded Americans of anthrax mail attacks the country in the wake of the September 11 attacks 12 years ago.