Britain stages grand funeral for Thatcher
LONDON - London staged its biggest political funeral in almost half a century on Wednesday when Britain's governing elite join the Queen and global leaders to bid farewell to former Prime Minister Margaret Thatcher, known as the "Iron Lady".
In an event comparable to that of Winston Churchill's funeral in 1965, Thatcher's coffin will be carried atop a horse-drawn gun carriage through streets lined with admirers, and some detractors, from parliament to the city's most famous cathedral.
"She was the first woman prime minister, she served for longer in the job than anyone for 150 years, she achieved some extraordinary things in her life," said Prime Minister David Cameron, leader of Thatcher's Conservative Party.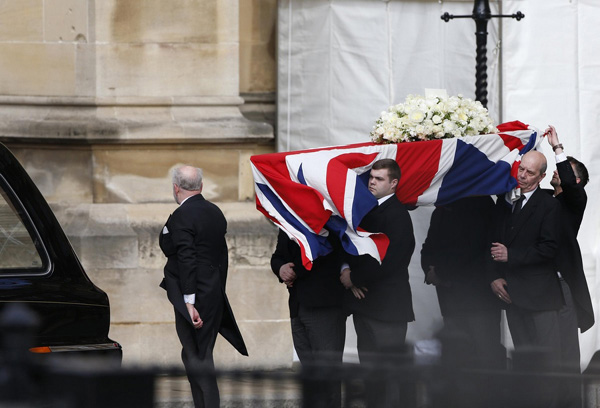 Pallbearers carry the coffin of former British prime minister Margaret Thatcher as it arrives at the Palace of Westminster in London April 16, 2013. Thatcher, who was conservative prime minister between 1979 and 1990, died on April 8 at the age of 87.[Photo/Agencies] 
"I think what is happening today is absolutely fitting and right," he said, dismissing concerns by some Thatcher critics about the cost and pomp of the event.
The bells of London's iconic Big Ben clock tower will fall silent in tribute for the first time since Churchill's funeral and more than 700 armed forces personnel will honour a woman who led them to victory in the 1982 Falklands War.
Guns will fire from the Tower of London every minute while the procession is under way.
Thatcher, who governed Britain from 1979 to 1990, died on April 8 after suffering a stroke.
In life, the woman the Soviets christened the "Iron Lady" divided the British public with her free-market policies which sometimes wrought wrenching change on communities. In death it is no different.
People gathered along the funeral procession route early in the morning with placards that reflected a range of views.
"You gave millions of us hope, freedom, ambition," read a placard held up by one man, while a short distance away another man held one that read: "Over 10 million pounds of our money for a Tory funeral". Tory is another word for Conservative.
Polls have shown that many are unhappy that the estimated 10-million ($15 million) pound bill for the funeral is being picked up by the taxpayer, while some left-wing lawmakers say the pomp-filled funeral is excessive.
But her admirers, of which there are many in her party and in southern England, argue that she merits such a funeral.
"Some people say she divided the country: but if she was so divisive, how did she win three elections?" said Joseph Afrane, 49, a security officer from south London, who wore a cowboy hat, jacket, shoes and even watch emblazoned with the British flag.