Three dead in US marathon bomb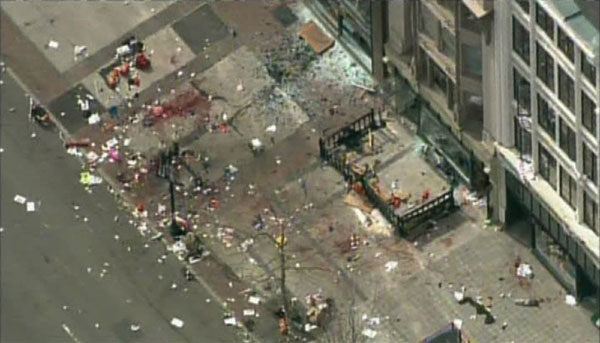 Still image taken from video courtesy of NBC shows the scene of an explosion at the Boston Marathon, April 15, 2013. [Photo/Agencies]
Vice-President Joe Biden was on a conference call with gun control activists when staffers turned on televisions in his office Monday to view coverage of the explosions. Biden said during the call that his prayers were with those who suffered injuries.
"Apparently there has been a bombing," Biden said. "I don't know any of the details of what caused it, who did it. I don't think it exists yet. But our prayers are with those people in Boston who suffered injury."
Shortly after the explosions, Secret Service shut down Pennsylvania Avenue outside the White House, cordoning off the area with yellow police tape. Several Secret Service patrol cars also blocked off the entry points to the road.
The White House was not on lockdown and tourists and other onlookers were still able to be in the park across the street from the executive mansion.
Attorney General Eric Holder directed the full resources of the Justice Department be deployed to investigate and a department official said Holder has spoken with FBI Director Robert Mueller. The official said the US attorney for Massachusetts's office was coordinating the Justice Department's response with the FBI and other federal, state and local law enforcement authorities.
Cities worldwide stepped up security following the explosions.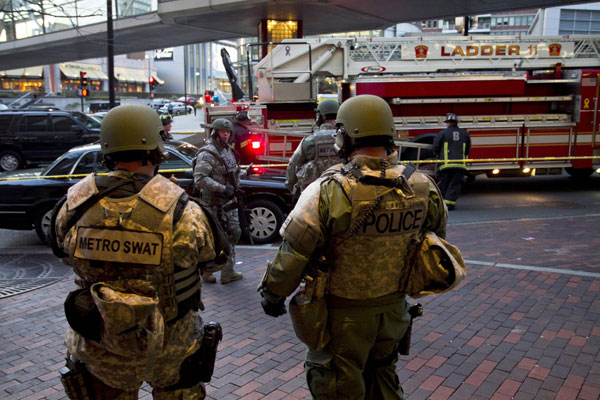 SWAT officers stand guard after two explosions interrupted the running of the Boston Marathon in Boston, Massachusetts, April 15, 2013. [Photo/Agencies]
In Britain, police said they were reviewing security plans for Sunday's London Marathon, the next major international marathon. Thousands of people compete in the London Marathon every year, thronging the city's streets. London is also considered a top target for international terrorists.
A London Metropolitan Police spokesman confirmed Monday that police are working with marathon officials to review security plans for Sunday's event. The London race's chief executive, Nick Bitel, expressed shock and sadness about the situation in Boston, saying "it is a very sad day for athletics and for our friends in marathon running."
In New York City, police spokesman Paul Browne said that critical response teams are deployed around the city. Officials were stepping up security at hotels and other prominent locations.
Police at three major Los Angeles area airports, including Los Angeles International Airport, were in a "heightened state of vigilance," with increased patrols to make it visible that more police were on duty Monday, said Chief of Airport Police Patrick Gannon.
Race day got started with 26 seconds of silence in honor of the victims of the December school massacre in Connecticut. A little more than 2 hours later, the lead runners passed the Mile 26 marker, which was decorated with the Newtown, Connecticut, seal and dedicated to the memory of those killed there.
Boston Athletic Association president Joanne Flaminio previously said there was "special significance" to the fact that the race is 26.2 miles long and 26 people died at Sandy Hook Elementary school.
The annual marathon attracts more than 500,000 spectators. It takes place on Patriot's Day, a state holiday that celebrates the evacuation of Boston by the British in the American Revolution.
Spectator Cherie Falgoust was waiting for her husband, who was running the race.
"I was expecting my husband any minute," she said. "I don't know what this building is ... it just blew. Just a big bomb, a loud boom, and then glass everywhere. Something hit my head. I don't know what it was. I just ducked."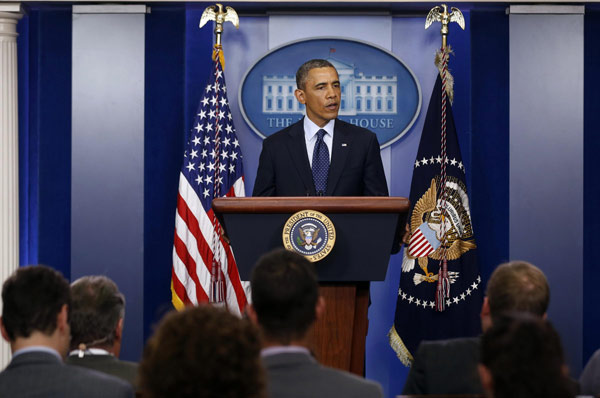 US President Barack Obama talks about the bomb blast at the finish line of the Boston Marathon while in the Brady Press Briefing Room at the White House in Washington, April 15, 2013. [Photo/Agencies]