Drones take toll on mental health
Constant fear
"There are multiple problems - the Afghan war and its spillover into Pakistan, migration, violence, kidnapping, poverty, unemployment," he said.
The most common conditions are anxiety, depression, a mixture of the two, then psychosis, schizophrenia and cannabis-induced psychosis.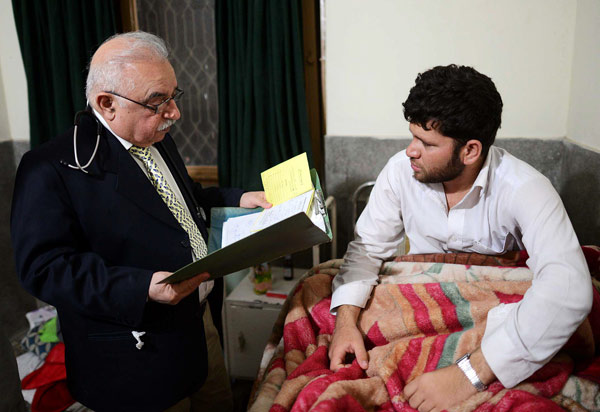 Psychiatrist Mian Iftikhar Hussain (left), speaks with a patient at his private clinic in Peshawar, Pakistan on Friday. A Majeed / Agence France-Presse
"Even soldiers come with somatic symptoms, with severe anxiety. These are related to the difficulty in coping with the stress of going to the war front."
The waiting room of his clinic is packed with patients from the tribal belt, bearded men with haggard looks and women crying into their burqas.
A mother of nine tells the doctor about the death of her relatives. A young man, hallucinating, shows the burns he has inflicted on his own arms.
Consultations last around 10 minutes. Most patients are sent away with prescriptions. The more serious cases are referred for electro-convulsive therapy.
In conservative Pakistan society, mental health problems have long been a stigma. While that may be slowly changing, demand outstrips supply.
Health services are basic to abysmal. Many people are more focused on survival - food, water and shelter. Taking time and money out to treat depression is beyond the means of millions.
"Health and education are the lowest priorities on the government agenda and, among health, mental health is at the bottom," said Hussain.
According to the National Association of Psychiatrists, there is one psychiatrist for every 333,000 people in the country of 180 million.
"The people we receive here is just the tip of the iceberg," said Haq. "If we have two patients, multiply that by 100. Nobody knows that they are having these problems," he added.
The few specialists lack time and resources. If they don't know when they will see their patients again, they send them off with prescriptions for six months, sometimes longer.
There is a growing demand for locally made tranquilizers and anti-depressants - cheap copies of expensive drugs manufactured in the West.
Agence France-Presse