Afghanistan expels special forces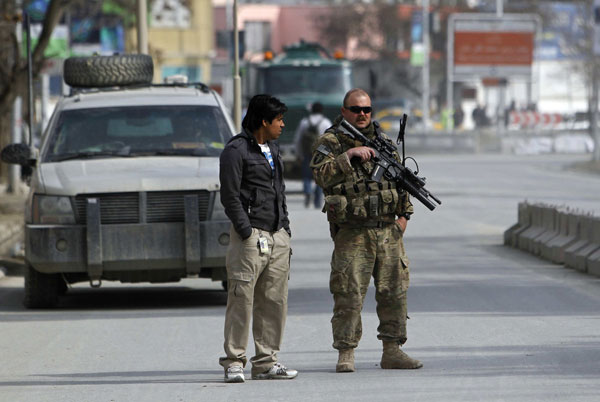 A US soldier from International Security Assistance Force keeps watch near the side of an incident in Kabul on Sunday. [Photo/Agencies]
Afghan President Hamid Karzai has given US special forces two weeks to leave a key battleground province after some US soldiers there were found to have tortured or even killed innocent people, the president's spokesman said on Sunday.
The decision by Karzai could further complicate negotiations between the United States and Afghanistan over the presence of US troops in the country once most NATO forces leave by the end of 2014.
Speaking at a news conference in Kabul, Karzai's spokesman, Aimal Faizi, said villagers in Wardak province had lodged a series of complaints about operations conducted by US special forces and a group of Afghans working with them.
The decision was reached at a Sunday meeting of the Afghan National Security Council, chaired by Karzai, Faizi said.
"The Ministry of Defense was assigned to make sure all US special forces are out of the province within two weeks," he said.
"After a thorough discussion, it became clear that armed individuals named as US special forces stationed in Wardak province were engaging in harassing, annoying, torturing and even murdering innocent people," Faizi added.
Longtime plague
The US military has said it will discuss the issue with Afghan officials and it takes seriously all allegations of misconduct.
Wardak is a deeply troubled flashpoint where a Chinook helicopter was shot down by the Taliban in August 2011, killing eight Afghans and 30 US citizens - the deadliest single incident for US troops in the entire war.
Analysts suggested the order underscored Kabul's growing distrust of US-led international troops and their desire to control local militia, trained by the US but which operate without their knowledge in the war against the Taliban.
Relations between Karzai and Washington have long been troubled, and with the bulk of NATO's 100,000 combat soldiers due to leave and the Afghan president to step down next year, there is huge uncertainty about the future.
"It appears to be an on-the-spot, emotional decision, based on a long-standing frustration that there are forces, ... Afghan and international, that are uncontrollable," said Martine van Bijlert of the Afghanistan Analysts Network.
The New York Times quoted Afghan officials as saying that the order was taken as a last resort after they had tried and failed to get the coalition to cooperate with an investigation into claims of murder and torture.
The presidency cited, for example, a student who was taken away at night from his home and two days later was found dead with torture wounds and his throat cut.
Kabul did not specify which groups were responsible, but the US is understood to have trained a variety of local militias, a number of which reportedly operate beyond the control of the Afghan government.
On Feb 16, Karzai also restricted Afghan forces from calling in NATO airstrikes - an important weapon in the fight against insurgents - amid concern over civilian casualties.
Karzai's orders were issued amid sensitive discussions over the size and role of a residual force that could remain in Afghanistan after 2014 to focus on training and counter-terrorism operations.
Kabul and Washington are still negotiating an agreement on the legal status that could allow an estimated 8,000 to 12,000 US troops to remain.
"It does not appear to be a calculated move as a part of the security agreement negotiations, although it should of course be seen in that context," said Bijlert. Afghan analyst Omar Sharifi said the order was primarily one for domestic consumption, with Karzai's administration also fully aware of its dependency on the US for cash and military expertise.
A spokesman for Wardak's governor said locals have complained regularly for two and a half months about US special forces and "their illegal Afghan armed forces arresting, torturing and even killing villagers".
Read More
Two Afghan newspapers on Monday lashed out at President Hamid Karzai's order to expel US special forces from Wardak province near the capital city of Kabul.
"Since Wardak is one of the insecure provinces in the country, the order from the president for eviction of US special forces from Wardak at this stage, on the one hand is important, and on the other, is dangerous," the daily Etilaat Roz said in its editorial.
Another newspaper, Hasht-e-Subh, said in its editorial that the presidential order would encourage Taliban militants.
The editorial, headlined "Why Taliban have free hand in Wardak and Logar", said the differences between the Afghan government and the coalition forces should be solved through negotiation.