Cyprus concludes bailout deal with intl lenders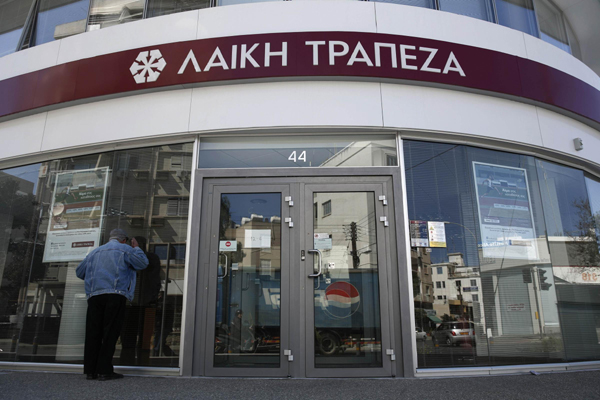 A man tries to look inside a branch of Laiki Bank a few hours before the re-opening of the banks on the island in Nicosia in this March 28, 2013 file photo. [Photo/Agencies]
NICOSIA - Cyprus concluded a 10-billion-euro ($12.8 billion) bailout deal with international lenders, the government spokesman said on Tuesday.
Christos Stylianides said the deal was clinched at a negotiating session shortly before troika technocrats representing the European Commission, the European Central Bank and the International Monetary Fund were scheduled to fly to Brussels to submit a report to the Eurogroup.
"It is an important development which closes a long period of uncertainty... Even with this delay, the situation is being normalized and stabilized and creates the conditions for the restart of the economy," Stylianides said.
Under the deal, large bank depositors were forced to take a sizeable loss to recapitalize the banking system.
However, Stylianides said the government side had achieved several of its targets, including preserving its sovereign rights over planning and exploiting natural gas discovered in large quantities in offshore fields.
A troika report on the conclusion of negotiations will be submitted on Wednesday to an ad-hoc working group on Cyprus, which will in turn recommend endorsement of the deal by a Eurogroup meeting on April 12 in Ireland at which the agreement may be signed.
The cash-strapped Cypriot government is looking forward to a quick flow of cash into its almost empty coffers as a 1.5-billion-euro bond issue is maturing in June. But the first loan tranche is not expected before mid-May, as the deal has to get approval by national parliaments of Eurogroup countries.
Stylianides said that the troika has accepted that all proceeds from natural gas development will stay under the jurisdiction of the government and the troika will only have an advisory role.
He also said that the adjustment period for the economy has been extended from 2016 to 2018.
"This breathing time offers the possibility for better planning on the application of the (adjustment) program under more favorable economic conditions which will safeguard the rights of employees," said Stylianides.
Stylianides also said that the government has been given a respite until 2018 to consider privatization of state corporations, giving it time to better plan the operation.
However, public sector employees are expected to take a further 0.8- to 2-percent voluntary cut in their salaries on top of a 25-percent loss of their income, under a plan to preserve the jobs of about 400 teachers working on contract.
The teachers would have become redundant under a scheme increasing teaching time by 45 minutes per day.
Other arrangements in the bailout deal safeguard the right of about one quarter of the island's population to free medical care at public hospitals and a reduction in the number of public service posts to be scrapped from 5,000 to 4,500.
Finally, debtors were given a two and a half years grace period before their mortgaged property is taken over by the banks instead of an initial 3-month arrangement.
Cyprus sought EU/IMF bailout in June 2012 when its two main banks asked for state support following a total loss estimated at 4.5 billion euros on account of a 75 percent write-down of Greek bonds decided by the European Union earlier last year.
Negotiations with international lenders dragged on for more than eight months before being suspended because of upcoming presidential elections in mid-February.
New Cyprus President Nicos Anastasiades who was elected in the February presidential vote inherited the bitter task of concluding a tough bailout package which involves salary cuts and tax hikes and also an unprecedented haircut on bank deposits.
Under a Eurogroup scheme to downsize the Cypriot banking system, large savers with deposits of over 100,000 in Bank of Cyprus will probably have 60 percent of their savings turned into bank equity. The remaining 40 percent of their deposits has been frozen until authorities feel confident enough to lift strict restrictions on bank transactions.
Cyprus' second largest lender, Cyprus Popular Bank, also known as Laiki, was folded into the bank of Cyprus, taking with it its assets and deposits of less than 100,000, but also a 9.2-billion-euro debt which resulted out of receiving emergency liquidity assistance from the European Central Bank during the last 12 months.
The bad section of Laiki, which includes deposits of over 100,000 euros and bad debts, will eventually be liquidated under a process which may take up to 7 years.
The unprecedented haircut of bank deposits has raised concerns across Europe that the Cyprus case may be used as a prototype for recapitalizing banks in other countries facing difficulties, despite assurances by politicians that Cyprus is a one-off case.
It has also caused widespread misery to a previously affluent population and further confounded economic hardship. Children of people out of work are reported to go hungry to school and are being taken care by charitable organizations.
Several volunteer organizations have set up "social groceries" offering free foodstuffs for the needy and doctors have set up a clinic providing free examinations to people without money.
The Church of Cyprus also stepped in on Tuesday with a decision to mortgage its large property to help people in need by offering help in cash, food and medical care.