Foreign funds outflow of ROK on risks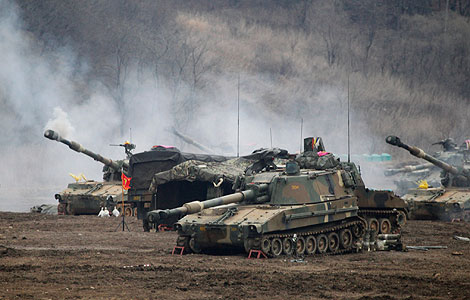 South Korean soldiers conduct field firing drills near the demilitarized zone in Paju, north of Seoul April 2, 2013. [Photo/Agencies] 
SEOUL - Foreign funds flowed out of Republic of Korea's financial market last month due to rising geopolitical risks on the Korean peninsula and uncertainty over bailout negotiations in Cyprus, financial watchdog data showed Wednesday.
Foreign investors sold domestic stocks worth 1.9 trillion won ( $1.7 billion) in March after buying shares in the prior month, according to the Financial Supervisory Service (FSS).
"Since the middle of the month, global investors turned into sellers of Korean stocks on worriers over Democratic People's Republic of Korea (DPRK) risk and renewed uncertainty in the eurozone from Cyprus bailout negotiations," the watchdog said in a statement.
The Democratic People's Republic of Korea (DPRK) said on Tuesday that it will restart operations at the Yongbyon nuclear facility, which was shut down in October 2007 under an agreement at the six-party talks. Pyongyang said last weekend that it had entered "a state of war" against ROK after nullifying the non-aggression pact and cutting off all cross-border hotlines.
European investors shifted into net sellers, and US investors kept their selling spree for three straight months. Chinese investors continued to buy local stocks for five months in a row though their purchase volume reduced last month.
As of the end of March, foreign holdings of local stocks were 413 trillion won, or 31.7 percent of the total market capitalization. The largest owner was US investors who held 39.2 percent of the total foreign ownership, followed by the European investors with a 31.3 percent share and the British investors with a 9.4 percent stake.
Foreign funds worth 1.5 trillion won flowed into the domestic bond market in March, lower than a 3.5 trillion won inflow in the previous month. The reading was based on net bond buying minus maturing debts.
The purchases came amid rising expectations for the central bank's rate cut at the April monetary policy meeting and growing appetite for safe assets. The Bank of Korea (BOK) was increasingly expected to cut its policy rate by 25 basis points to 2.5 percent in April as part of efforts to boost the faltering economy in accordance with the fiscal stimulus package by the finance ministry.
Both European and US investors maintained their buying trend, but the volume declined last month. Main buyers came from Luxembourg, Thailand and China, the watchdog data showed.
Foreign holdings of local bonds listed on the main bourse reached a new high of 95.2 trillion won, or 7.1 percent of the total bond ownership, as of the end of March. The reading topped the prior record for two straight months.
The largest owner was European investors who took up 31.9 percent of the combined foreign holdings, followed by US investors with a 20.6 percent share, Luxembourg investors with 16.4 percent and Chinese investors with 12.1 percent.