Chinese-Canadian woman found dead in LA hotel water tank
Chinese-Canadian tourist Elisa Lam had been missing for about two weeks when officials at the historic Cecil Hotel in downtown Los Angeles found her body in a water cistern on the hotel roof.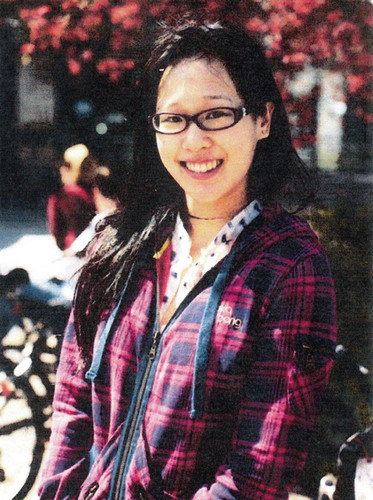 Elisa Lam, of Vancouver, British Columbia, traveled alone to Los Angeles on Jan 26 and was last seen five days later by workers at the 600-room Cecil Hotel. [Handout / Los Angeles Police Department]
Guest complaints about low water pressure led to a maintenance worker making the gruesome discovery on Tuesday, and officials were trying to determine if the 21-year-old was killed or if her death was a bizarre accident.
British tourist Michael Baugh and his wife said water had only trickled from the tap for days before the body was found. "The moment we found out, we felt a bit sick to the stomach, quite literally," Baugh said.
The discovery of Lam's body called into question the safety of the hotel's water. She was found in one of four cisterns that provide guests with water for washing and drinking.
More testing must be done to determine the cause of Lam's death, Los Angeles County officials said on Thursday. An autopsy performed on Thursday didn't provide definitive answers into whether Lam was killed or if she fell victim to a bizarre accident. Coroner's officials will await toxicology tests before making a final determination.
However, Los Angeles Police Department Sergeant Rudy Lopez called Lam's death suspicious. Before she died, hotel surveillance footage showed her inside an elevator pushing buttons and sticking her head out the doors, looking in both directions.
Lam, of Vancouver, British Columbia, traveled alone to Los Angeles on Jan 26 and was last seen five days later by workers at the 600-room hotel near Skid Row.
The $65-a-night Cecil Hotel was built in the 1920s and refurbished several years ago. The hotel is on Main Street in a part of downtown where efforts at gentrification often conflict with homelessness and crime.
It had once been the occasional home of infamous serial killers such as Richard Ramirez, known as the Night Stalker, and Austrian prison author Jack Unterweger, who was convicted of murdering nine prostitutes in Europe and the United States, the Los Angeles Times reported.
The cisterns are on a platform at least 3 meters above the roof. To get to the tanks, someone would have to go to the top floor then take a staircase with a locked door and emergency alarm preventing roof access.
Another ladder would have to be taken to the platform, and a person would have to climb the side of the tank. Lopez said there are no security cameras on the roof.
Lam intended to travel to Santa Cruz, about 560 km north of Los Angeles. Officials said she tended to use public transportation and had been in touch with her family daily until she disappeared.
Former high school classmate Alex Ristea of Vancouver called Lam's death shocking and said she was one of the friendliest people he knew. "This is the last person I expect out of all my friends to have something like this happen," Ristea said.
University of British Columbia spokesman Randy Schmidt confirmed that Lam had attended summer school at the university, but was not registered for the current session.
Ristea said he believes Lam had just gone to California for vacation, saying she had posted pictures on Facebook from tourist locations such as the San Diego Zoo.
Baugh and his wife, who were on their first trip to the US, had planned to go to SeaWorld on Wednesday. Instead, they were trying to find a new hotel. Their tour agency placed them in another downtown hotel with a less-than-sterling reputation, from what they heard.
"We're just going from one dodgy place to another," Baugh said, "but at least there's water".