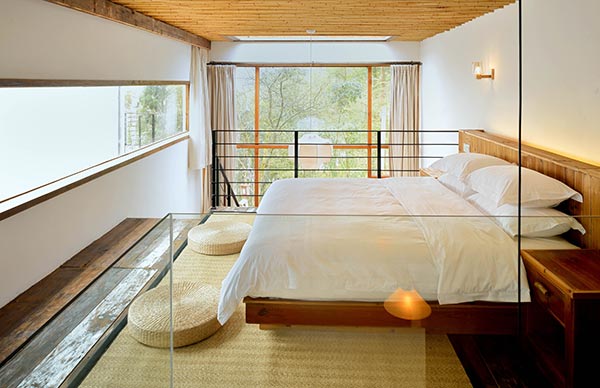 Puti Gu minsu house. [Photo provided to China Daily]
Getting the formula right
Despite the promising signs, factors such as rental prices could prove to be a stumbling block for minsu owners.
The growing interest in this sector and the resulting influx of investments has pushed up the rental prices of residences near Hangzhou's West Lake by 300 percent over the past five years, estimated Zheng Wei, founder and CEO of Yousu, an online marketing company in Hangzhou.
Furthermore, despite the rather high room rates, Zheng noted that minsu businesses actually need to be operational for at least five to eight years before they can turn a profit.
Zheng believes that a lack of experience in the industry could also work against some owners. "As quickly as the new minsu are opening, there will be dozens of others closing down over the next three years because of poor management," he said.
But Song Zhenhua, owner of one of Hangzhou's first minsu, believes that organic elimination will actually help the industry maintain its standards.
Song, who was born and bred on the rural outskirts of Hangzhou, returned to his hometown in 2012 and spent two years renovating a handful of cottages into a four-room compound comprising resort-style minsu. He named his minsu Puti Gu, which means "Linden Valley" in Chinese.
During the two years of preparation, Song would drive for 40 minutes everyday from the downtown area where he lived to the valley where his minsu was, just to track the timing of the sunrise. He did this because he wanted the rooms to be positioned in a way that would provide the best views of sunrise.
Song's dedication to the finer details has made Puti Gu a success. After just two years in business, he has now made enough to expand his accommodation to include 30 rooms and two restaurants. Rooms at Puti Gu are almost always fully booked and guests often have to make reservations more than a month in advance.
"I started early and invested enough time to make it right. Opening a minsu these days is kind of like having the fantasy of opening a cafe a few years ago. But like every business out there, it isn't that easy," he said.
"Success doesn't come just from having a poetic brand name. One has to know and respect nature to enjoy its beauty."