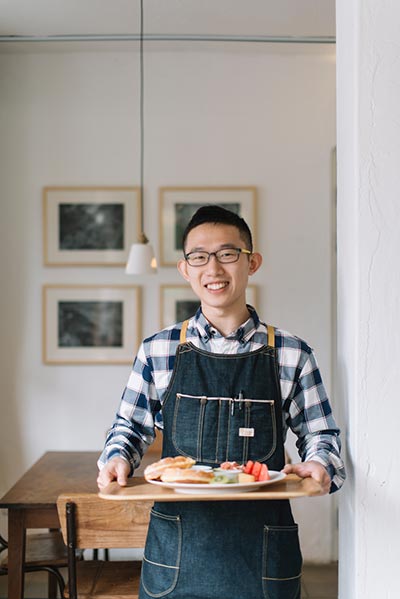 A waiter serves a dish of breakfast at Sunsite, a minsu in Hangzhou's West Lake area. [Photo by Liu Yujie/China Daily]
The capital for minsu businesses
As it turned out, their timing and choice of destination could not have been more ideal. Hangzhou's hospitality industry is said to be growing at the rate of 20 percent per year, and the city has even earned itself the reputation for being an incubator for minsu businesses.
According to statistics from the Hangzhou Tourism Committee, more than 20,000 new business owners have started hospitality ventures in recent years, adding some 50,000 new beds to the city.
Industry experts also say that Hangzhou is currently home to the largest and fastest growing number of minsu accommodations in China. It is believed that investors have in recent years poured more than 3 billion yuan ($450 million) into such businesses.
While Xu declined to reveal the occupancy rate at Sunsite, she said that business has been so brisk that she's already in the midst of setting up a second guesthouse in Zhejiang province. Room rates at Sunsite are similar to those at four-star hotels, ranging from 800 yuan to 1,200 yuan per night.
"We may have never worked in the hospitality industry before, but this doesn't prevent us from being good hosts. We believe that it is our sincerity, not business experience, that keeps us in and ahead of the competition," Xu said.
According to Zhao Hongzhong, deputy director of Hangzhou Tourism Committee, Xu is not the only greenhorn around, saying that a significant percentage of minsu owners in the city have little to no experience in the hospitality industry.
"The person who is running the minsu is what helps the place stands out from the competition. Therefore it doesn't really matter if he or she has any experience in the hospitality industry. Those who choose minsu over hotel chains or even five-star hotels are looking for the personal touch," Zhao said.
To help boost and regulate the industry, Hangzhou Tourism Committee has created a special map to mark the locations of all the guesthouses in the city and also plans to launch a website and mobile application to support the booming minsu sector. Zhao said that he expects hundreds of minsu to be opened in the city or in nearby suburban areas within three years.